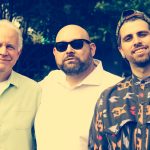 Joe Gilman and Giulio Xavier Cetto are some of the best musicians I had the pleasure of working with. They each brought their own interpretations of the music we played, including my original tune I wrote for my daughter, called "Stasia". And yet, playing with each of them seemed so familiar. However, Joe and I had only played one other time previously at a jam session, for really only a tune or two. After playing this concert of piano trio music, I want to play more music with Joe. He's a great musician and pianist. The music seemed to lift off the ground from the first tune. What a great talent!
Giulio, the youngest of the three of us by many years, did an excellent job establishing and maintaining the various grooves we played. He just understands rhythm. As a drummer, connecting with the bass player is key to making great jazz music. Connecting with Giulio is easy and rewarding. I haven't had that kind of connection with all bass players I've played with. It is a pleasure working with Giulio.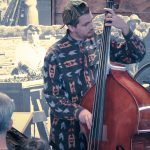 The trio played some challenging and soulful music from some of the great trio's. We'll have videos out later this summer. Stay tuned!