Jemal Ramirez: Music Lover From Day One.

I Want To Be The Bach Of The Drums.
My earliest memories are of me in my bedroom (I was about 4 maybe 5), with a portable tape recorder, adult-sized over-the-ear headphones, a box of my dad's tapes, chewed-up drumsticks, and this drum set. This was the first drum set that my mom, Deanna Tafoya, bought for me at a garage sale. I remember having two drum sets to choose from. I had a connection with this drum set for some reason; well, I was born in the Year of the Tiger (1974).
But my story with drums and music actually starts a bit earlier. My father, Alfred Ramirez, played music. He played organ and guitar in high school and beyond. In Merced California at that time there was a healthy and vibrant music scene, mostly because of then operational Air Force Base located 5 miles north of there. My dad played soul and rock music, later on jazz music. His love for music was very apparent to me. He would have musician friends at our house to play jam sessions, rehearse music and sometimes share new music from around the world. These musicians seemed amazingly supportive of each other. It was never a real decision for me to study music and practice, i just wanted to be a part of that world.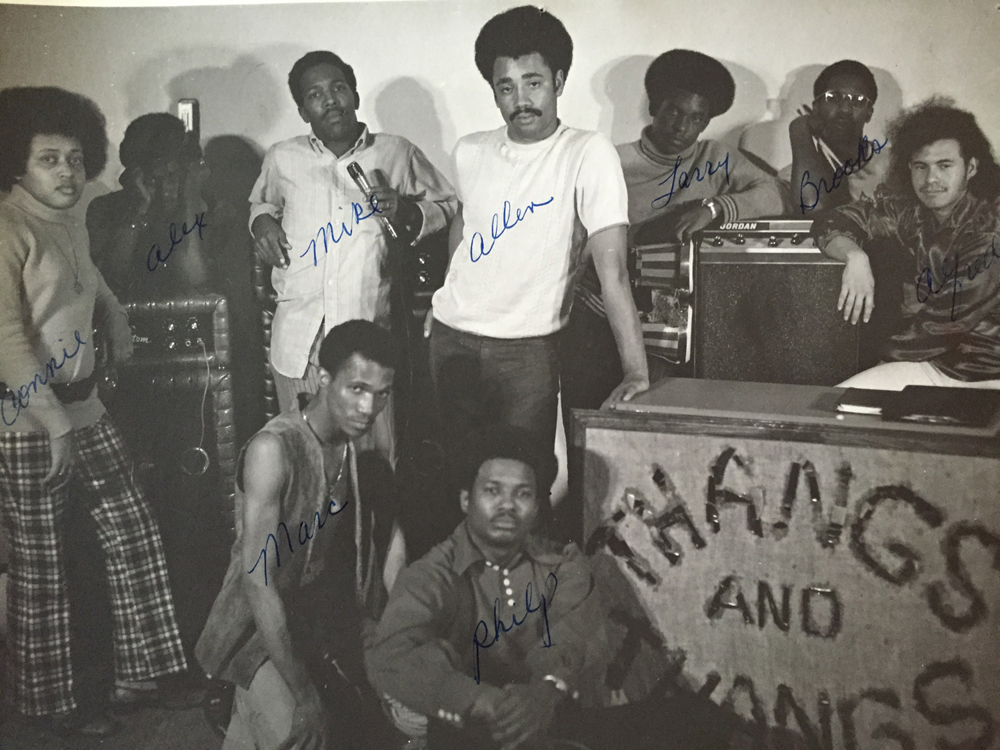 Just before I was born, my dad switched his focus to playing the drums. He bought a Ludwig Vistalite drum set. He told my mother that he bought the drums for me, and I did play them often, but these were his drums. He bought a nice stereo and an amazing record collection that he used daily. Music was not something I saw as a profession, I saw it as a special power that brought my father to life.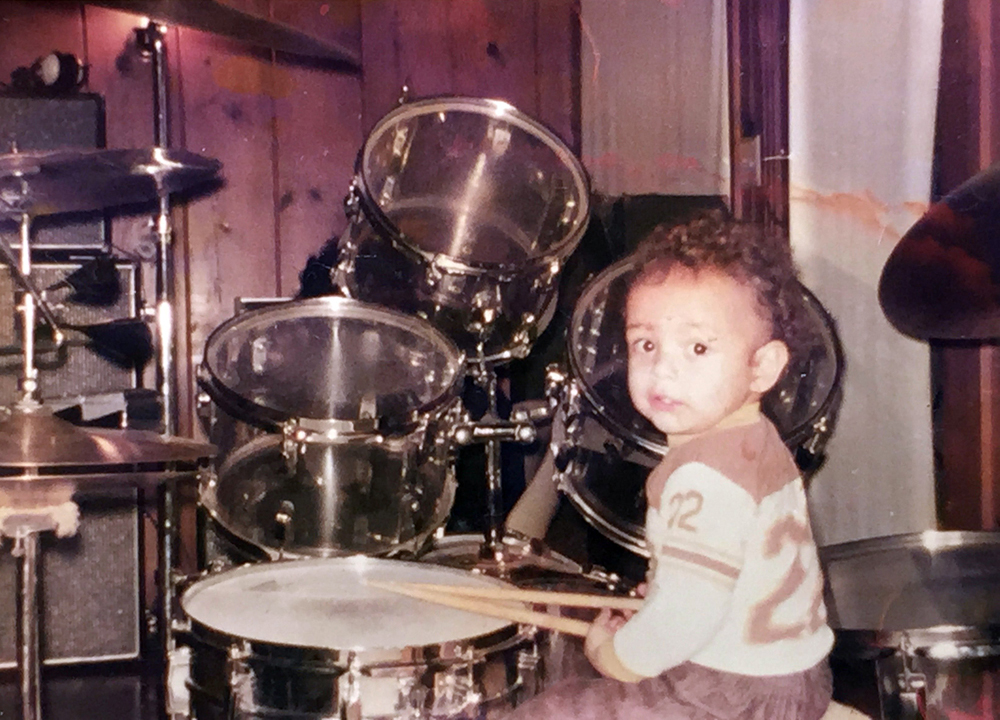 While I was a baby, my mom and dad drove us from California to as far away as Colorado while I was only six months old. My dad was playing in a band that toured small clubs and hotels between Reno, Nevada and Grand Junction, Colorado. We drove there in his old Dodge van. This van had no insulation, it was a white tin can big enough to sleep in. I bet my mom thought we would die out in that cold Colorado winter weather.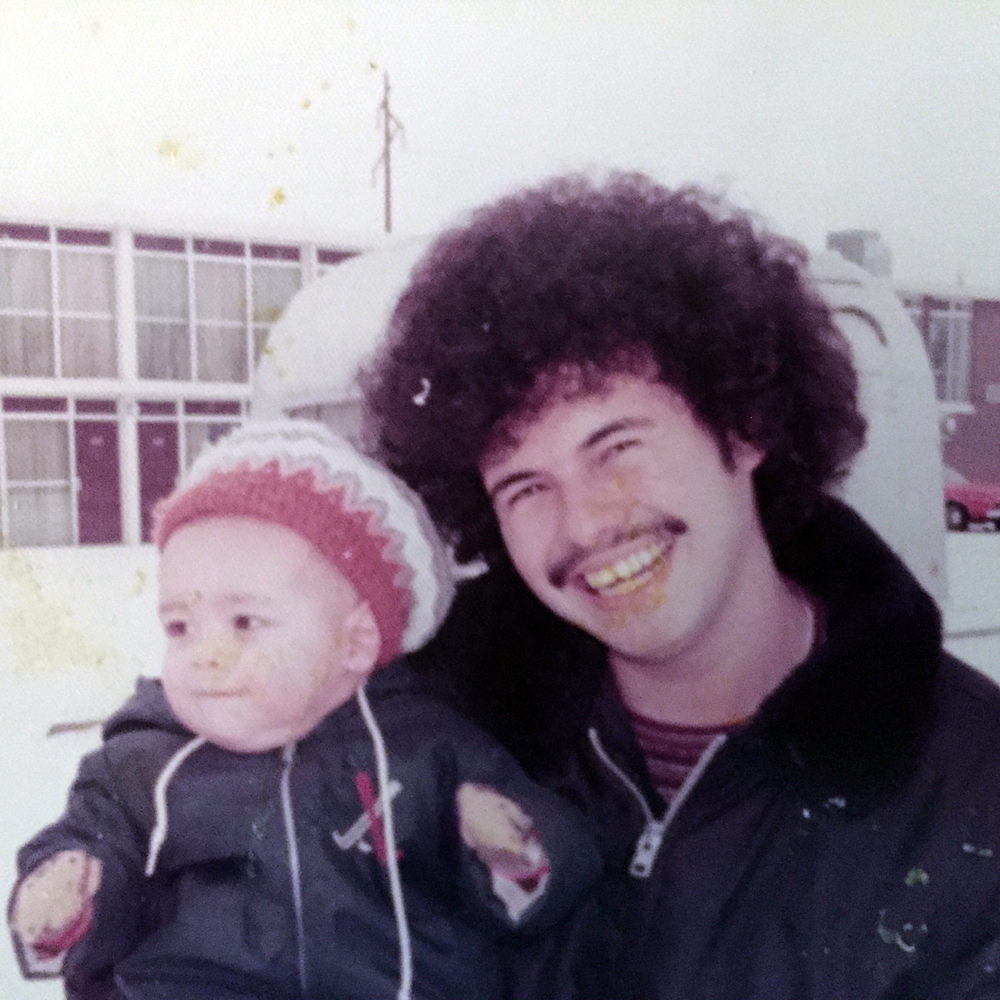 Eventually, my mom brought us home, and dad would go on to parts of Michigan. Eventually he got a local job to raise me and my brother in Merced. Growing up in an old world kind of town gave me plenty to do. My neighborhood had many kids my age to play with. At that time I was either playing sports, reenacting scenes from Stars Wars or playing drums. My grandparents on both sides of my family lived mere blocks away. Those days in Merced will forever be a huge part of me. Living across the street from my mom's parents saw me doing many chores around my house and theirs. My grandfather Adolph Tafoya was the neighborhood handyman. I learned quite a bit about construction and home maintenance from him. My mom was the neighborhood seamstress and I was her errand boy.
My dad settled into a shipping and receiving/plant manager career in the almond industry. This job required long hours of him. I knew there was something else that he should be doing, but it wasn't until years later that I realized he gave up his dream of a career in music. He never talked about that, but by age 3, I knew my dad loved to play the drums. He was a superstar to me. He played along to "his" music on his stereo. This included the sounds of Earth, Wind and Fire, Spyro Gyro, Weather Report, Billy Cobham, and Yellowjackets. He also played in local bands for several years until he became bored and resentful of playing music he was not interested in (Top 40). So he got a really nice stereo that he could play the latest hippest music from the jazz and pop world. This is what kept him interested in practicing. That stereo was so nice! When he turned the volume way up it felt like a mini concert in our house. You could literally hear his stereo and him playing drums from a block away. The funny thing is, the cops only came to our house once to ask us to stop the party.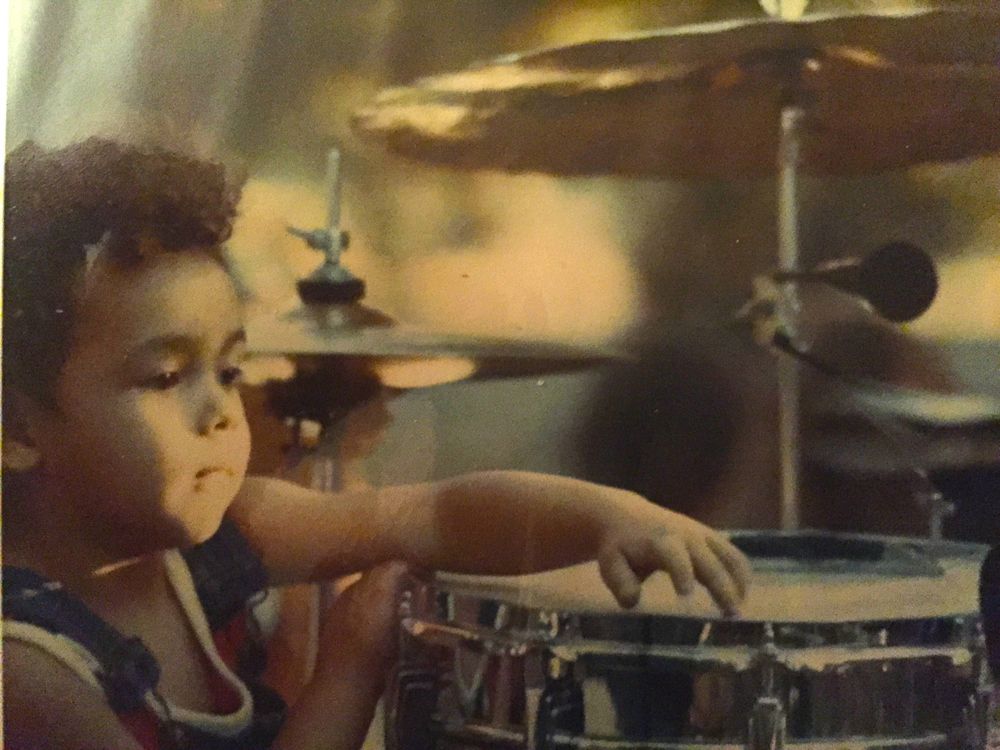 My first drum teacher was my dad. I purchased my first nice full rack Marantz stereo from Sears on a monthly payment plan back 1990. It cost me well over $1000 for this stereo. I got my first CD's to play on this stereo. Later on (my senior year of high school) he would come to my bedroom to play along to Ralph Moore albums with Kenny Washington and Victor Lewis on drums.
I say "his" music, because, well, that's what my mom called it. My mom loved listening to the radio. In fact, I think she probably to this day, is more connected to mainstream pop music than I am. In middle school, I loved listening to Whitney Houston, Michael Jackson, Hall and Oates, Bobby Brown, Tina Turner, Mister Mr. That was my mom's influence. Plus she was the one who would take me to all my school band practices and performances (and much later she was the one who would convince my dad that it would be okay for me to go into music as a profession, letting me borrow the car to get to local gigs and spend my time preparing).
An amazing thing happened for me at the start of my middle school life. My mother decided to move me to a school outside of our neighborhood (Rivera). She wanted me to study music with Shirley Hazelton, the band director at Rivera Middle School. My mother said that my babysitter lived across the street from Rivera and that was that. I had Mrs. Hazelton for four years, 5th through 8th grade.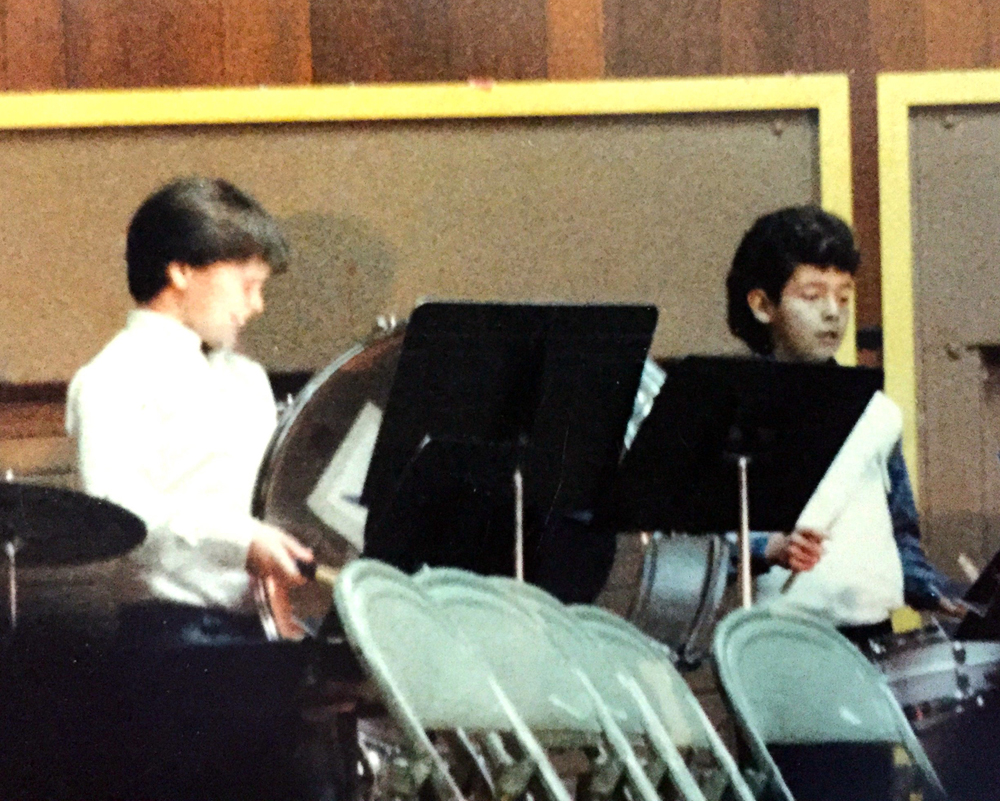 During that time I learned how to make music with other 10- and 11-year-olds. I remember feeling very strange in a classroom of so many young people playing music. The music I was listening to at that time would normally have 3-10 musicians in a group. Furthermore music was more of a solitary activity for me at that time. There was probably 50 of us in that beginning fifth grade band. I never thought much about reading music, or what the music experience would be like in a school classroom. One thing is for sure, Mrs. Hazleton was easy going on us percussionists, but she never let the band slack off. 
Luckily, I made a good friend in Scott Harris. We met in the fifth grade band percussion section. I noticed right away that he seemed to know stuff about reading music and playing the drums. I was right, his older brother Spencer played drums for the Disneyland Collegiate Band. Scott and I quickly became good friends. We ate lunch together everyday (along with another friend named Vicky Peoples) in middle school and played drums in Mrs. Hazelton's band. She would let me and Scott improvise percussion parts some of the time. We both knew more about drums and music than the typical beginning band percussionist. He and I played drums together in school band all the way through high school.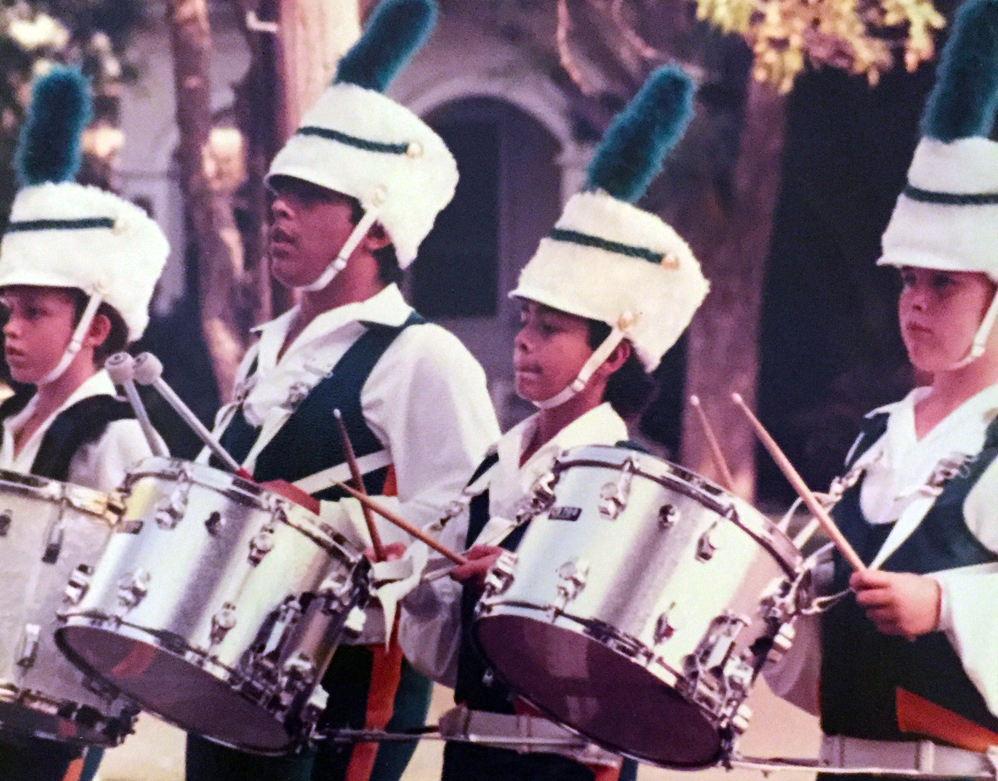 In high school, I remember right away feeling amazing. My high school band director (Greg Christiansen) called me during the summer before my ninth grade year to try out on marching tenor drums. I had already auditioned for him at the end of my eighth grade year. This  was mandatory for incoming freshman. I remember playing a marching band percussion solo arrangement of the Sonny Rollins tune "St. Thomas." I knew he caught me improvising, but he didn't say anything at this audition.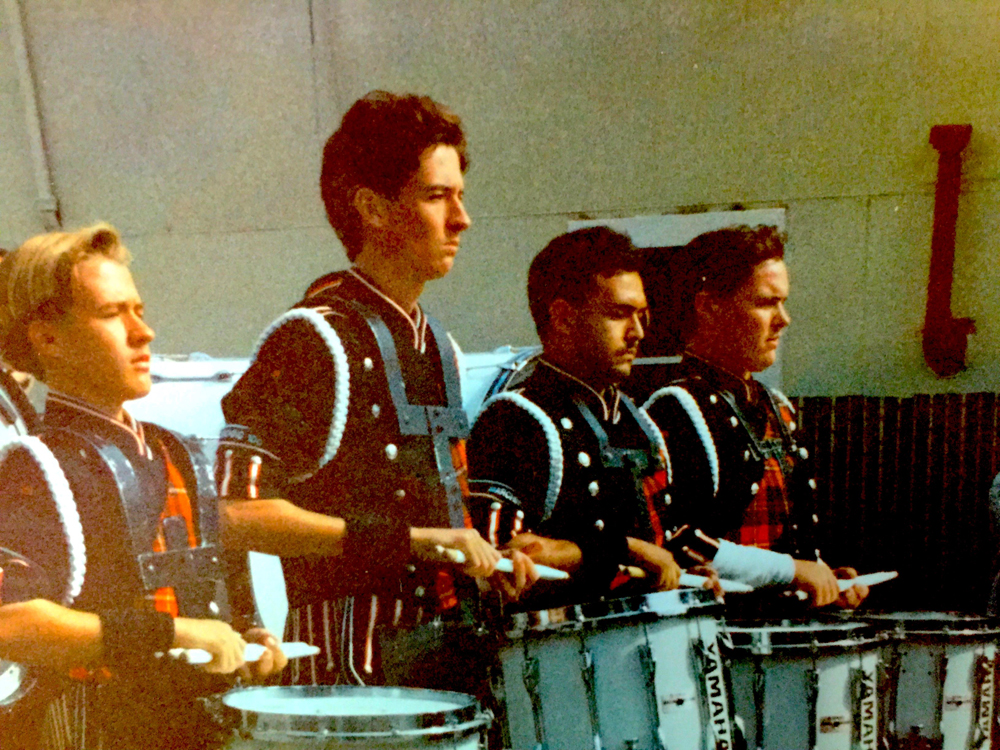 When he brought me in to audition later that summer, he asked me to play the drum competition piece that our band was playing my freshman year. He watched me like a hawk, standing directly behind me. I knew he was watching both me and the music. That was the most intense lesson on reading music I had up to that point. He kept telling me, "You're  changing the rhythm". Then he would sing the rhythm to me. Then he would say stuff like this is a Santana rhythm. What I'd always done was figure out what the music needed from the sheet music and by listening to the band—then I would improvise parts I heard. This is definitely a jazz player and jazz drummer thing.
Luckily, at Merced High School I met more young people that would help me learn all the traditional and hybrid rudiments. Their names are Derek Johnson and Darren Tunstall.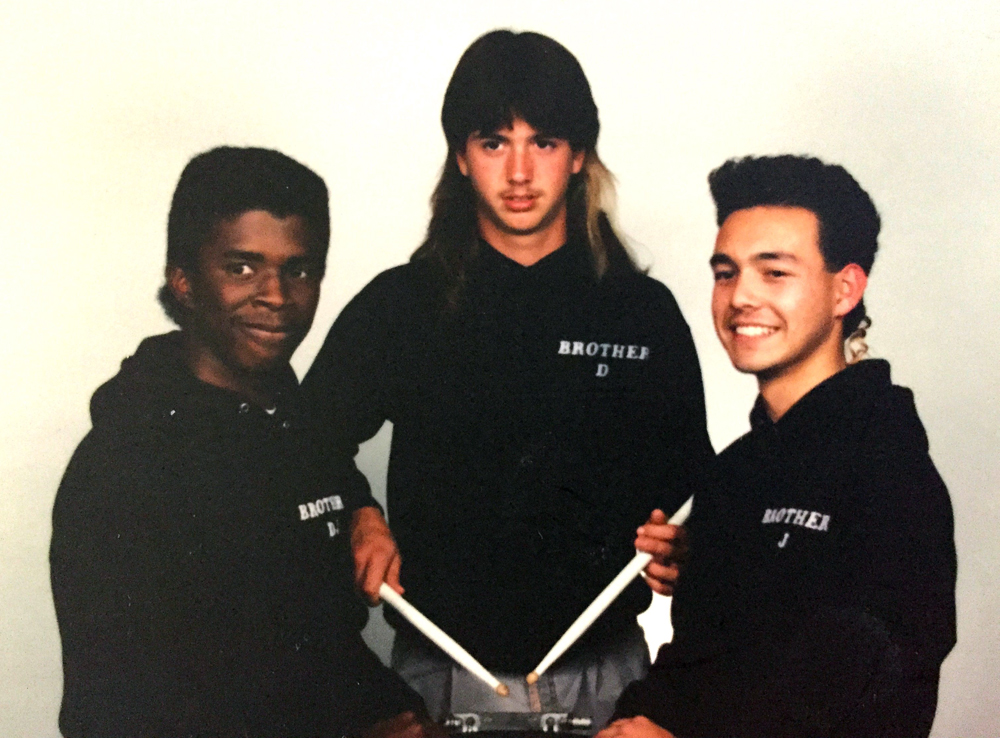 I used to practice with these guys for hours, daily. I learned so much about drum corps from them. They could talk about the Concord Blue Devils and Tom Float for hours. They knew all the players names in that group and would talk about each player like they knew them personally. This was so new for me. At home during that period, I stopped playing the drum set. I borrowed a homemade gum rubber practice pad and a copy of the George Lawrence Stone books, "Stick Control and Accents and Rebounds". Soon I was in their club of serious drum corp drumming. 
Toward the end of my freshman year, on a last-minute invitation, my band director took me and Derek to Kimball's East in Emeryville, California to see Freddie Hubbard in concert. This band included Bobby Hutcherson, Eddie Marshall and Jeff Chambers. This was in March of 1989. My band director brought us back stage to meet the band. I was shocked at this happening then and even now as I reflect on this memory. The jazz concert was above my head, even though I had been exposed to jazz. At that time the jazz I was seeing live was with my father. Every year he would take me and my family to the JVC Jazz Festival in Concord, California. I was able to see The Miles Davis Group a couple of times, The Yellowjackets a couple of times, Spyro Gyra a couple of times, Steve Smith and Vital Information.  This was my understanding of Jazz at that time. I have since met many younger jazz musicians who have not checked out this music but know all the bebop music, post bop music and the "Classic Jazz" periods. Being a rhythm section player myself, I have always appreciated these more contemporary roles for the rhythm section; rhythm sections that followed in the footsteps of Weather Report, Brecker Brothers and the Billy Cobham/George Duke bands.
Over the next three years, as the drummer for the Merced High School Jazz Band, I met more young people who had the music bug. Greg Christiansen took a handful of us to more concerts. He wanted us to know more, listen more and play more—so that's what we did. He took me to see The Phil Woods Band, The Jackie McLean Band, The Roy Hargrove Band, The Harper Brothers Band and The Miles Davis Tribute Band. In addition he brought Eddie Marshall, Bruce Foreman, Matt Cattingub, and Frank Summares to visit our jazz band and give clinics and school wide concerts. Between my dad and my band director, I was getting a widely diverse look at what jazz was in the late 1980's and early 1990's. I still call Greg all the time. He is like my second dad.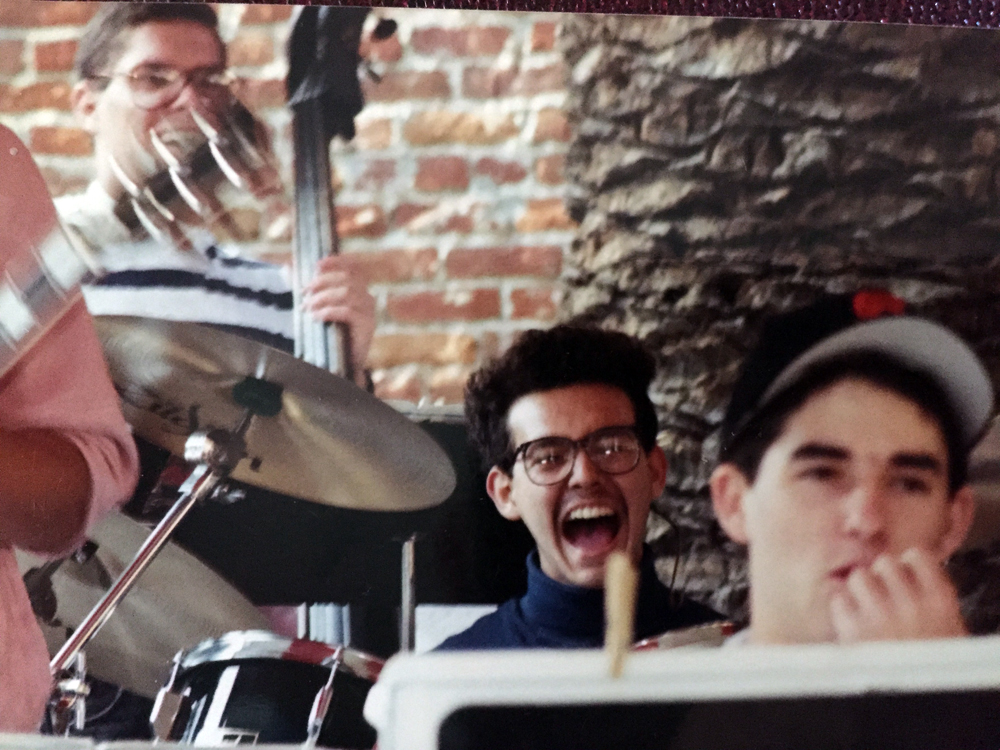 On a scholarship from the Merced High School Band Booster, I attended the Stanford Jazz Workshop the summer of 1991. That was a life-changing experience for me. After auditioning for Adam Nussbaum and Jeff Ballard, I got into a top jazz combo. This allowed me to study under Reggie Workman for that week. I remember my high school band director making a big deal of Reggie a year earlier when our high school jazz band competed at the national jazz competition in Oakland called Music Fest. I know today, that spending that one week with Reggie gave me a lifetime to think about, study and draw inspiration from.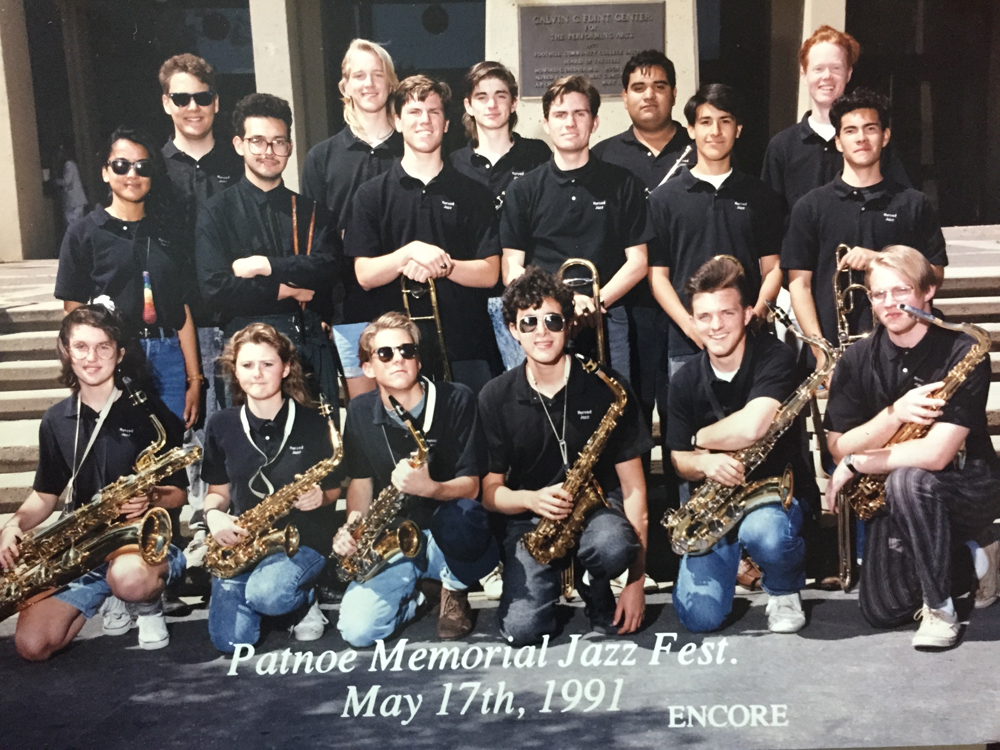 In that group was another young musician that shared amazing music with me. His name is Ravi Coltrane. He played the Wayne Shorter album "Speak No Evil" and the Miles Davis album "Seven Steps to Heaven" for me. This life changing experience put me on the Blue Note records path that we jazz fans and musicians know of. I think I was lucky not understanding who these players are because it probably would have happened differently.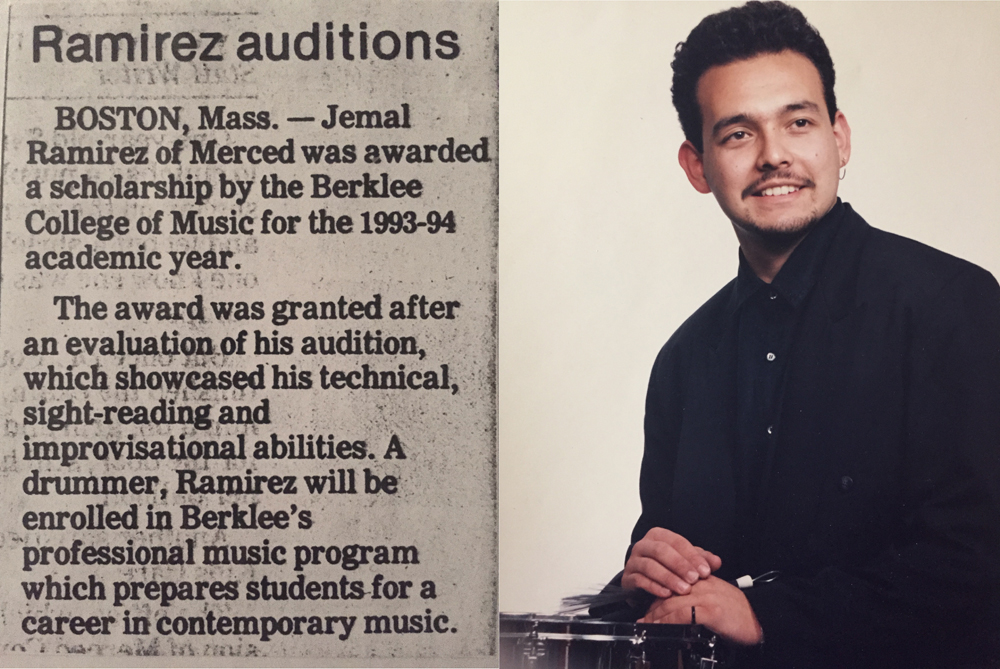 My next life challenge was deciding where to study music. I did audition for Berklee and was awarded scholarship money, but it wasn't enough for me to make the move to the east coast. I was a young country boy. Going to San Francisco always felt like a busy city. I couldn't imagine a positive outcome moving to the East Coast at that stage of my life, so I moved to Chico, California. My best friends from high school were there. Derek Johnson, Scott Harris, Bryan Baca, and Cristi Hinds.
Chico turned out to be a great move for me. I made great friends in there, who were into jazz and once again I learned naturally with my peers—I imagine the way the great jazz musicians learned together in any other time periods preceding the time I spent studying jazz with my brothers in Chico. I once heard the late great bassist Ray Brown say that when he was coming up, his music friends would learn the latest Charlie Parker solos off the record, and before they allowed each other in their "clubhouse" they would make each other sing the new Charlie Parker melody and solo. 
This was what we did at 478 Humboldt Avenue in Chico, California. We all listened to the same albums. We turned each other onto tunes and musicians. We worked out of real books, we transcribed, we would travel 3 hours each way to see great internationally recognized touring jazz musicians playing in Oakland at the original Yoshi's. I remember seeing Johnny Griffin, Kenny Washington, Christian McBride, Joey Calderazzo, Joshua Redman, Brian Blade, Brad Mehldau, Diana Krall, Carl Allen, Clarence Penn among others at the original Yoshis in Oakland, California.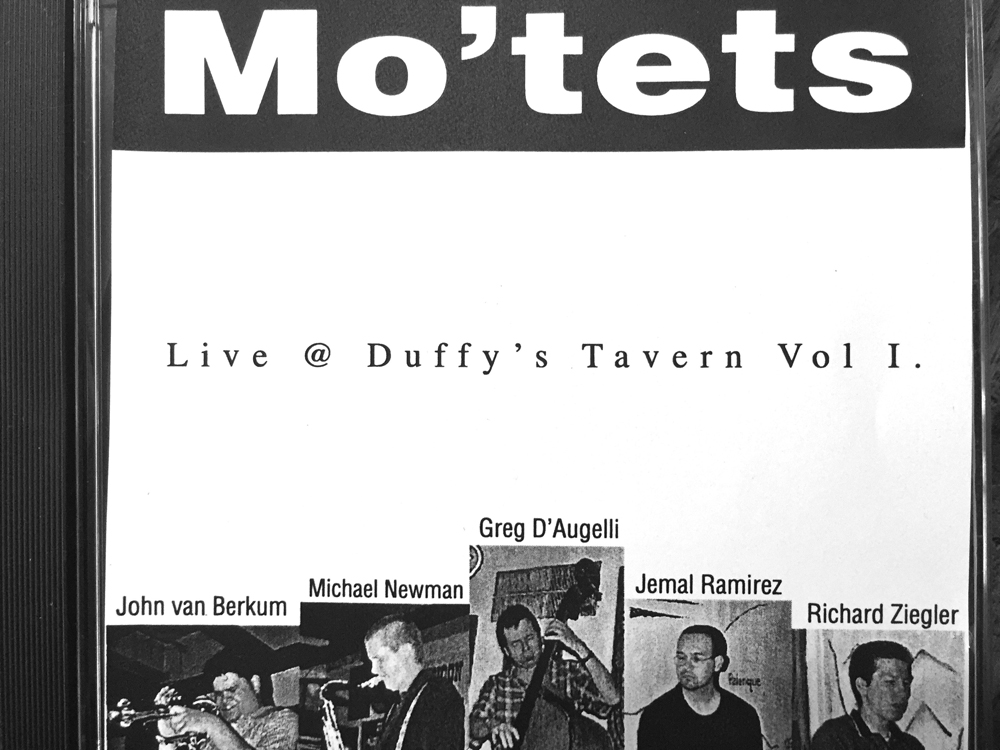 We started a band called The Mo'tets and played many gigs together. It turned out that Chico was a great place for a young country boy like me. Chico itself is just a bit bigger than Merced, but I'd have say, more forward thinking. My jazz friends (brothers) who studied this music together, defined my early twenties. John van Berkum, Michael Newman, Richard Ziegler, Daniel Atkinson, Nate Dreyfus, Jeremy Mauel and our teacher Greg D'Augelli made our experience like a progressive music school. I know now how lucky I was moving to Chico and finding my people.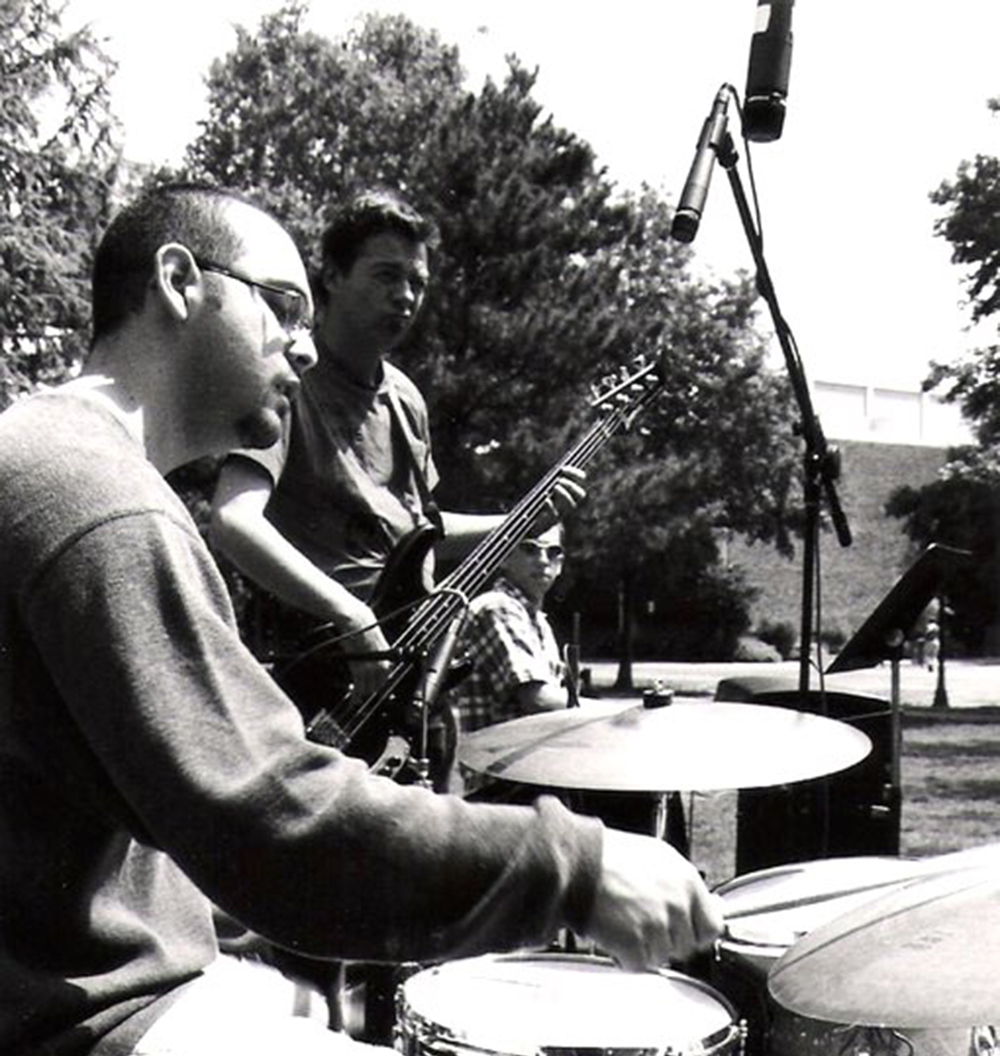 I still remember meeting Greg D'Augelli for the first time at Cafe Phoenix (a little jazz club in downtown Chico). We talked for an hour about jazz players who I had been to listening to on recordings. Up until that time in my life the only person who knew all of the players I was listening to was my own high school band director. Greg D'Augelli knew each player I mentioned, and he could name albums that he heard them on, where these musicians were from and who they learned from. I could tell right away that he was someone I was meant to meet and play music with and learn from. I still call him today. He actively plays music in Northern California on all woodwinds and the double bass.
I was lucky to be playing straight ahead jazz with my friends in Chico but I was also lucky to be recommended by Dan Kinkle (jazz drummer and educator at Chico State and middle school music director) to audition for a fusion group in Redding, California (one hour north of Chico) called After Dark. These guys were great. They took me under their wings and allowed me to play my big drum set, (a seven piece Yamaha Recording Custom drum set) that I got as a high school graduation present from my parents, a couple years earlier.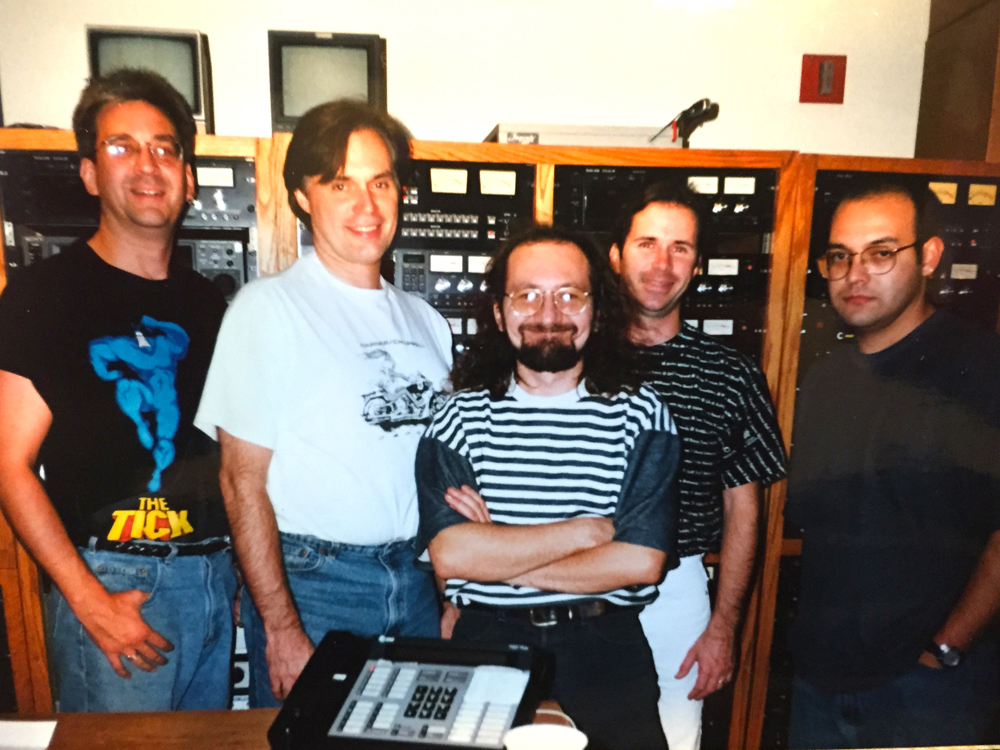 These guys listened to Weather Report, Chick Core, Jaco Pastorious and rock/funk oriented jazz. But more importantly they wrote original music. This would be my first experience creating parts with no prior points of view to contend with. This would prove to be a great association for me to also do early touring and backing up, up-and coming singers in the rock style. This was an amazing time in my life that I know I would not have experienced at Berklee or any other serious music school that focuses on progressive jazz or pop.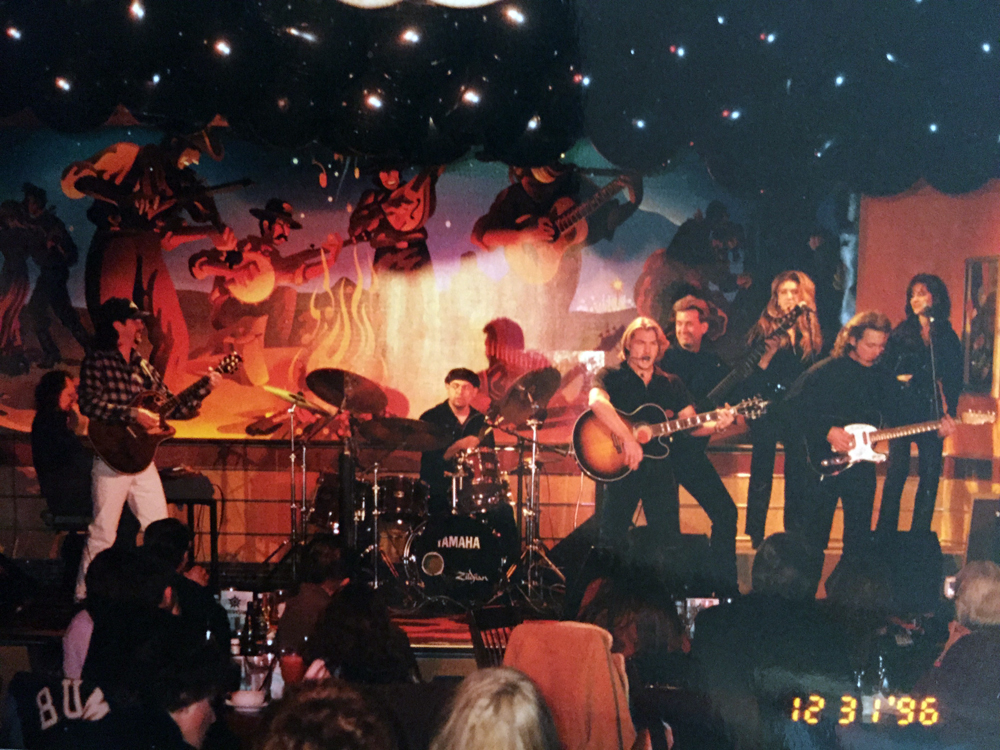 I was still going to see concerts with my dad as well. One special weekend I remember the two of us driving to South Lake Tahoe from Chico on a Friday afternoon to see Spyro Gyra that night and the next day driving to Oakland to see The Return of the Brecker Brothers Band at the old Yoshis and then back to Chico that night. That's a lot of driving for one weekend and a lot of music to comprehend. But that was my dad. He loved fusion music and he loved sharing these types of experiences with people. I think that's where I picked up that same type of joy for sharing music when I teach and play music.
During my Chico days, I kept in touch with Stanford Jazz Workshop and met more musicians who would lead me onto my next path. The summer of 1995 I met Greg Hutchinson and Benny Green. Benny Green was my combo leader at Stanford Jazz Workshop the summer of 1995. He talked to our combo as if we were in a band together. On several occasions he played the piano to demonstrate what he wanted to hear. 
When I think back to that week, what I remember most was his constructive feedback and warmth as a person. Something that I am reminded of today, is this young saxophonist named Howard Wiley (16 at the time), who was also in Benny's combo. Benny said to me and Howard, "when you play together later (implying sometime in the future—more distant than that week we had together), you'll get a chance to stretch out". It was a funny remark to make, because me and Howard had never met or played together.  We wouldn't have another chance for 3 more years—when I moved to the SF Bay. Howard is as feisty today as he was then.
Shortly after that summer at the Stanford Jazz Workshop, Wynton Marsalis and The Lincoln Center Jazz Orchestra came to Chico to play a concert. Deric Binyon, a local Chico trumpeter asked if I could bring my drums for the jam session hosting the Wynton Marsalis and the Lincoln Center Orchestra at a restaurant after their concert at Chico State. So I brought my drums and proceeded to meet and play with some members of Wynton's band. It was such a dream come true for me. I got to play with some truly outstanding musicians. I wanted to jump on their tour bus and be their jam session drummer. I was so excited this happened. And I relieved I didn't get kicked off the band stand. I was so scared of that happening.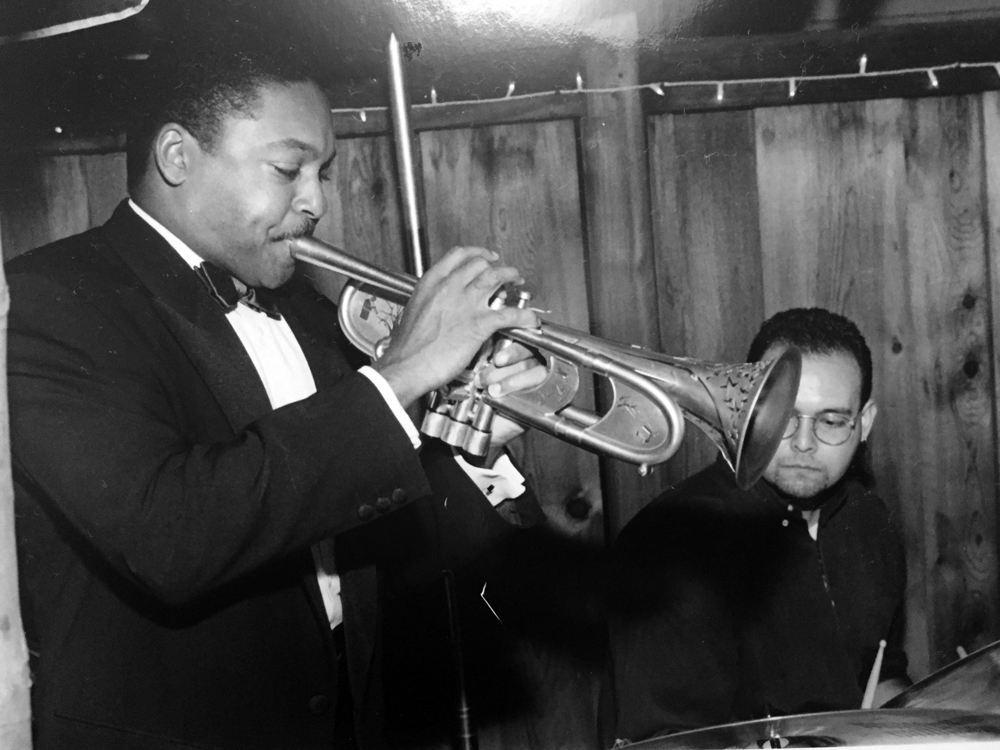 From meeting and playing with Eric Reed at that jam and me telling Greg Hutchinson about it, a year later I ended up going to France with the Eric Reed trio for two weeks as the house band at the Antibes Jazz Festival jam session. From this experience I got to play with many of the headliners at the 1996 festival. I was 21 at the time.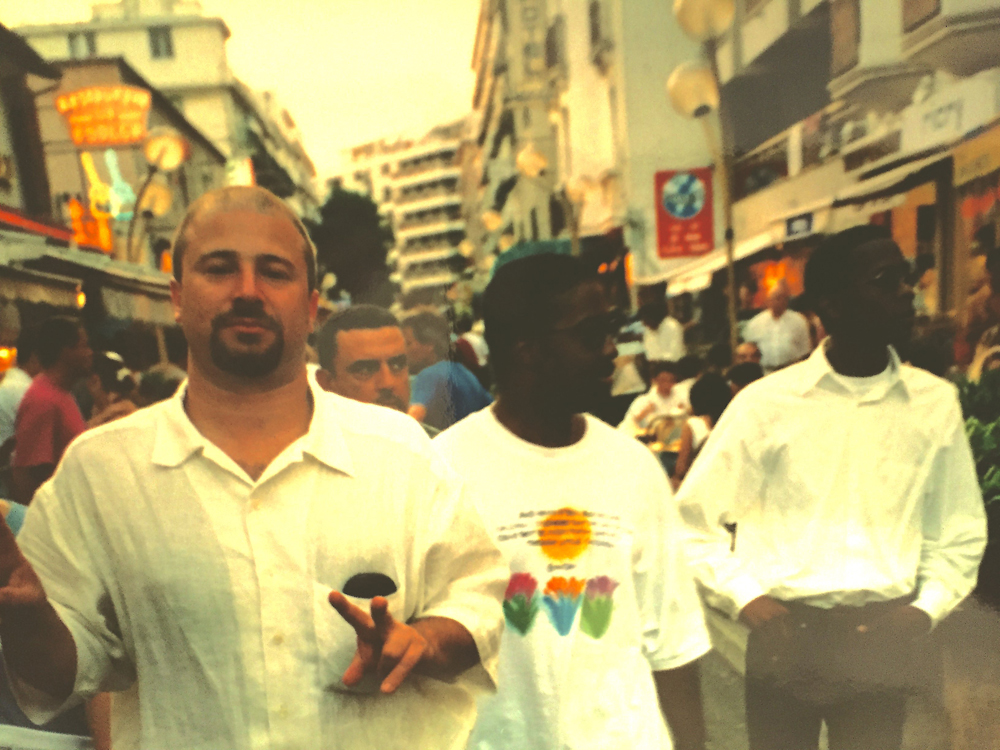 Eric Reed and Ben Wolfe proved to be a mini music school of swing, refocusing my mind and heart deeper into the shed of straight-ahead jazz. Another musician I met and learned from on this trip and beyond is Brian Blade. Brian became a drummer/mentor that I got to hang with when he was in Northern California area over a few years in the late 1990's.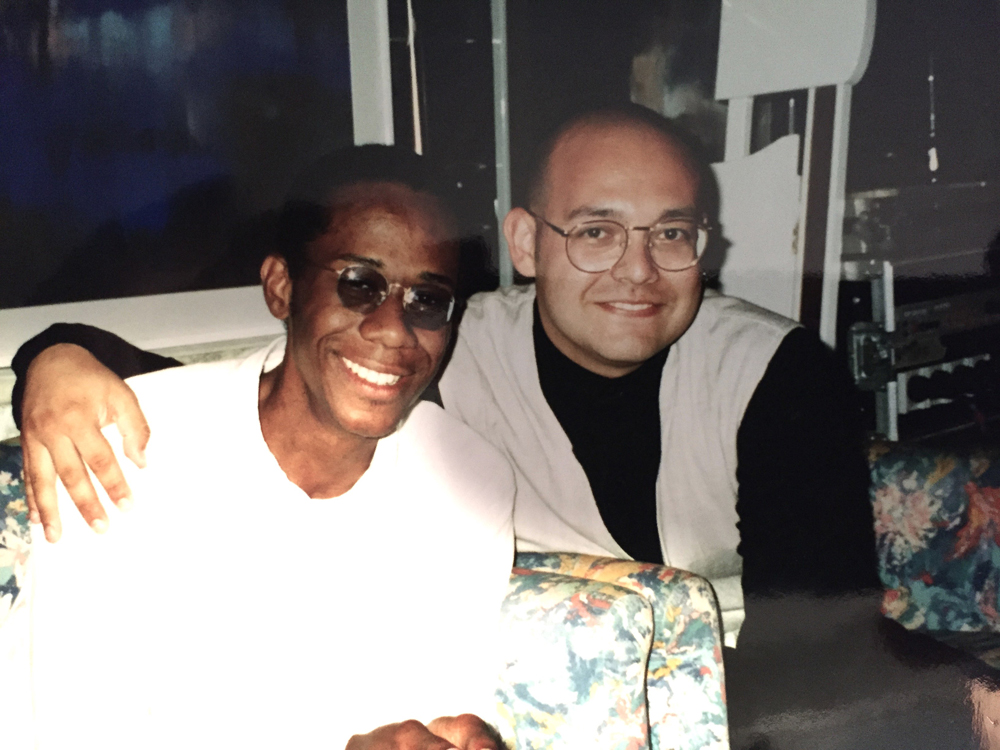 Upon returning from France, I had a renewed faith in my study of straight ahead jazz music from the 1950's and 1960's. Up until that time, I had spent my energy listening to the young jazz musicians whom seemed to be getting much of the attention during the late 1980's and early 1990's. However, these younger players who are 5-15 years older than me, had been listening to the players from 1940's through 1960's. To further investigate jazz music I began hosting a late night radio station (KCHO) on an invitation from Daniel Atkinson. 
I gained access to even more recorded jazz music than I knew existed. KCHO broadcasts from Chico State University. Their jazz library was abundantly stocked with new CD's (Thanks to Daniel) and older jazz vinyl (mostly reissues). This jazz library gave me a head start to learning the music Eric Reed, Ben Wolfe, Brian Blade and Marcus Miller had sent me chasing (things were so different back then, before the internet and youtube).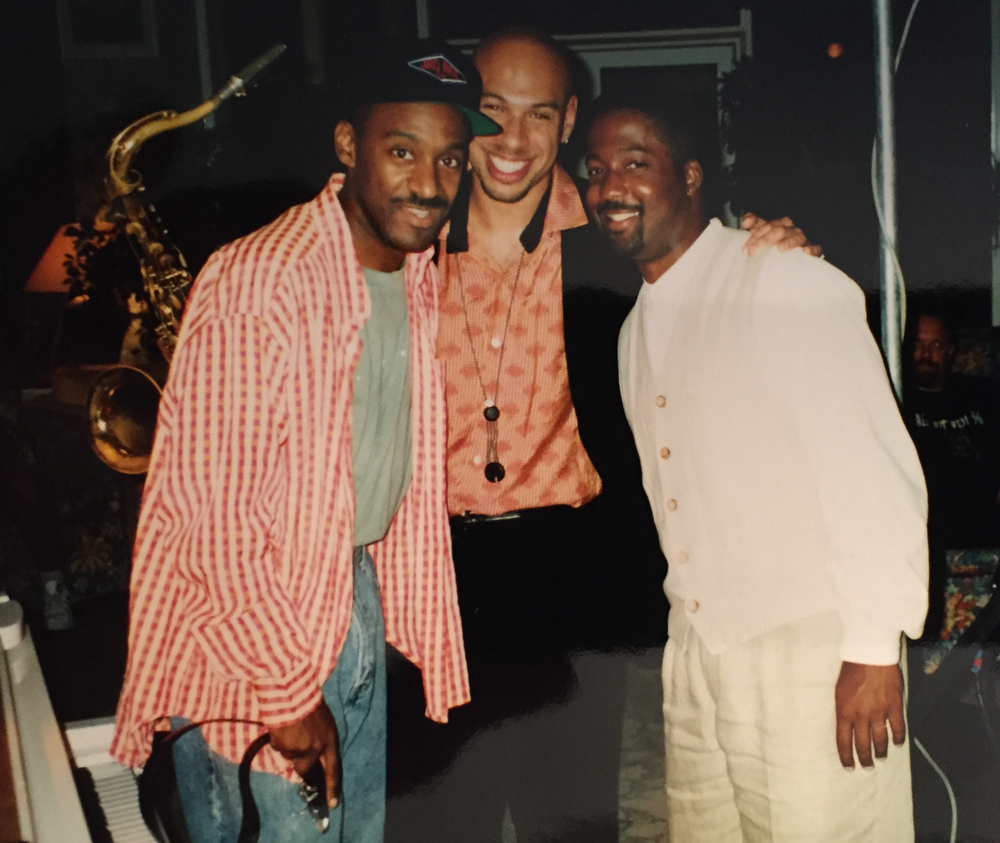 I also made several pilgrimages to Berkeley and its' many record stores near Cal Berkeley. I would come away with arm loads of CD's. Those years between the summer of 1996 and summer of 1998 proved to be special in my preparation for my move to San Francisco.
In August of 1998, I moved to Albany (North Berkeley) hoping to play jazz music full-time. Earlier that summer, I started calling the Bay area musicians I had phone numbers for. Included in those phone calls was to David McKinney, bassist me and Howard played with at Stanford Jazz Workshop under Benny Green. At that time David was playing often with Calvin Keyes. He got me on half a dozen gigs with Calvin before I moved to the San Francisco Bay Area. 
I figured that once I moved to the Bay, I'd be playing with those guys. As it turned out, my first official gig once I moved to the San Francisco Bay was with Marcus Shelby and Gabe Eaton. To my surprise, I moved to the Bay at the right time to jump into many of Marcus Shelby's trio gigs and many of the gigs that Jaimeo Brown, Darrell Greene and Jeff Marrs left open. These drummers had recently moved away to college when I moved to the SF Bay area.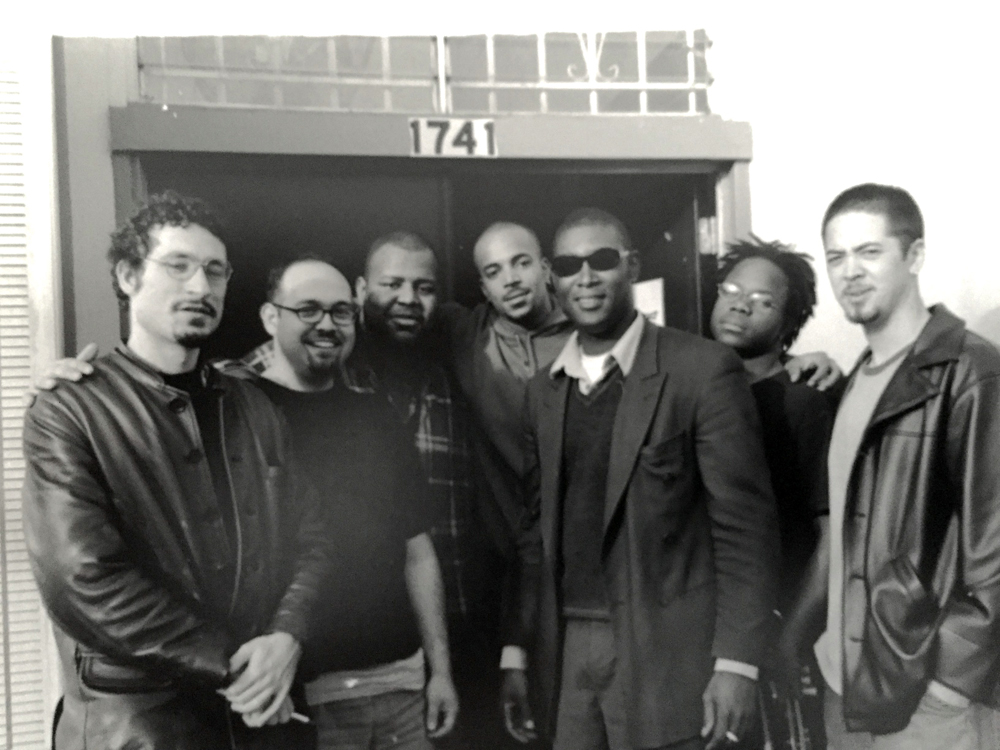 Marcus Shelby has a limelight in the SF Bay that few other jazz musicians have touched. During the three years I played with him, I played many clubs, festivals  and venues around the SF Bay, Los Angeles and France. Other fine musicians that were also employed by him at that time, that I got to play with are Howard Wiley, Matthew Clark, Dayna Stephens, Ambrose (Campbell) Akinmusire, Mike Olmos, Rob Barics, Adam Theis, Art Hirahara, Mike Rinta, Faye Carol, others.
Marcus was able to set up performances for me and him with headliners that needed local rhythm section players. Some of these opportunities are highlights of my musical journey. During my tenure with Marcus I was able to play with Joshua Redman for several performances at several schools through the SF Jazz organization, including Berkeley High School and the California Jazz Conservatory. Marcus also setup gigs for us to play with Darrell Grant, Ledisi, Dmitri Matheny, Dave Ellis and The Reginald Savage Dance Company. 
During the years of 1998-2001 I only played music and there was quite a bit of work to go around during this period in the Bay Area. The dot-com boom had many young professionals going out to our gigs. These yuppie's would hire us to play office parties, fashion shows and private parties.
I was lucky to gig on a regular basis with more great players in the Bay area and I learned a great deal from them. Each of following players has a special place in heart for mentoring me and hiring me to play music (Bob Kenmotsu, Bishop Norman Williams, David Ewell, Lukas Vesely, Eric Crystal, Chuck MacKinnon, Mark Levine, Kenny Brooks).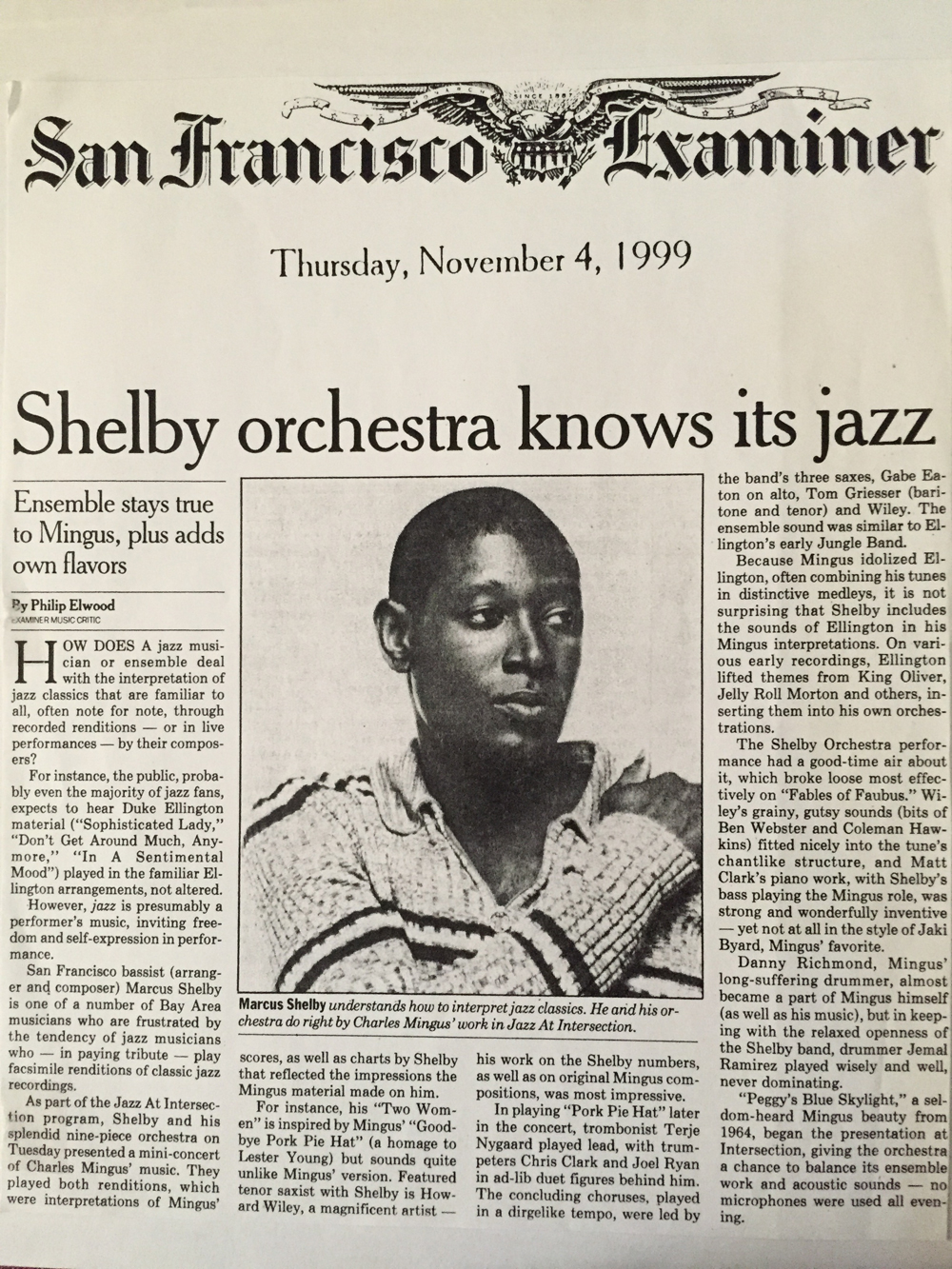 By the middle of 2001, the economy had slowed down and the gigs began slowing down. Just prior to that, I remember Mark Levine, a longtime San Franciscan, telling me that he had never witnessed as many gigs in the Bay Area. Everyone was working. I was lucky to be a part of that special time in the San Francisco Bay, when many of the musicians from my generation were learning how to play music together. We made great music and memories. We also had world class mentors taking part in our growth. Eddie Marshall was at the top of my list of drummer/mentors. He made me feel like a million dollars every time I got to connect with him.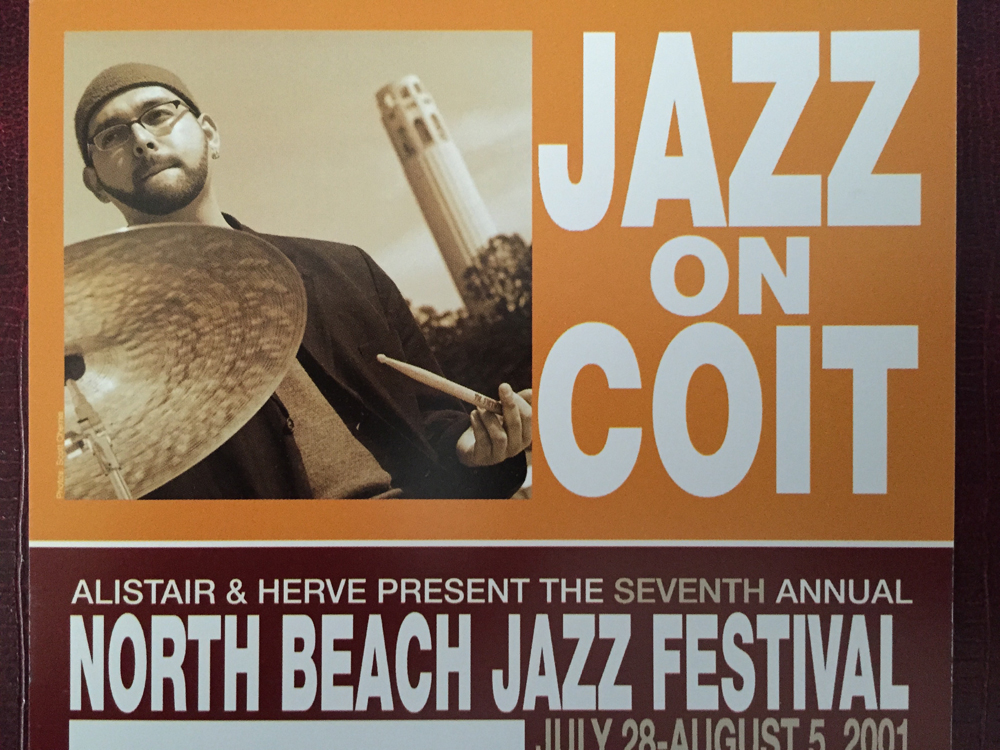 I was still spending time with Greg Hutchinson whenever he was in the San Francisco Bay area with Ray Brown, Joshua Redman or Diane Reeves. I love his playing and his sheer joy for life and music. He came out to see me at my home in Albany and on gigs I played with Matthew Clark and Marcus Shelby. But probably the best hang I'd ever had with Hutch was when he and I went over to the great Eddie Marshall's house to play drums for each. I kick myself for not recording that day, but for me it will always be one of those great days to look back on.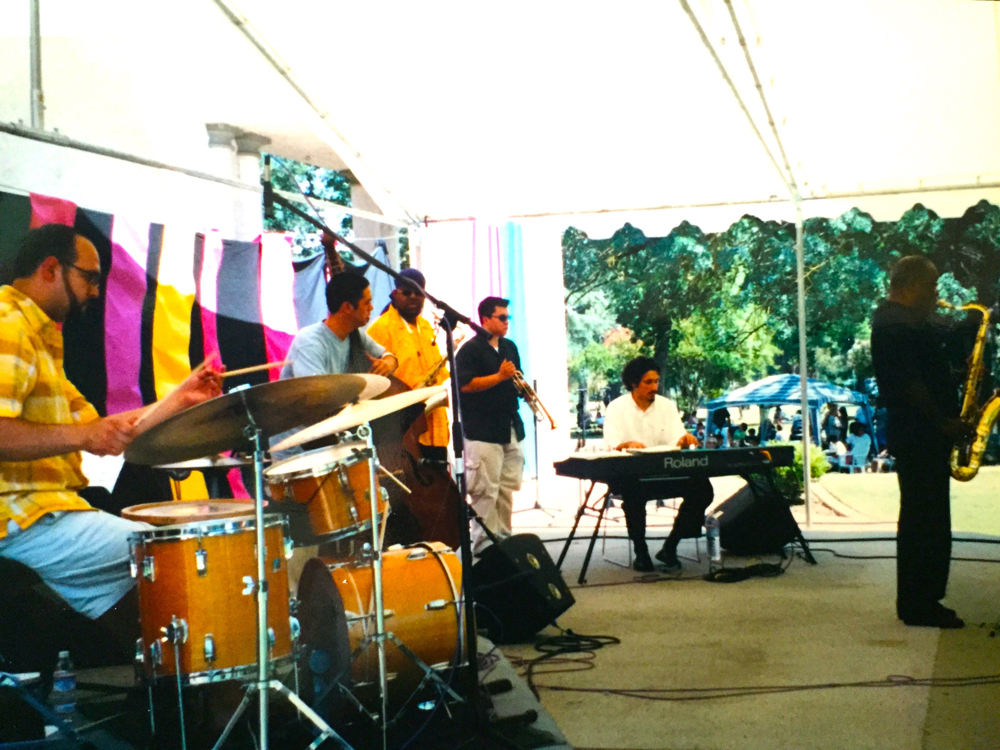 On September 11, 2001 I applied to finish my degree in Music Education at San Francisco State University. On my first day back at school, I was a young 28 and still had a vigor for music. I contemplated moving to New York and making that pilgrimage to the jazz capitol of the world. I had contemplated that move well before I had graduated high school. I decided to follow through with my music education degree in the Bay, to do what I think is often overlooked by artists, teaching.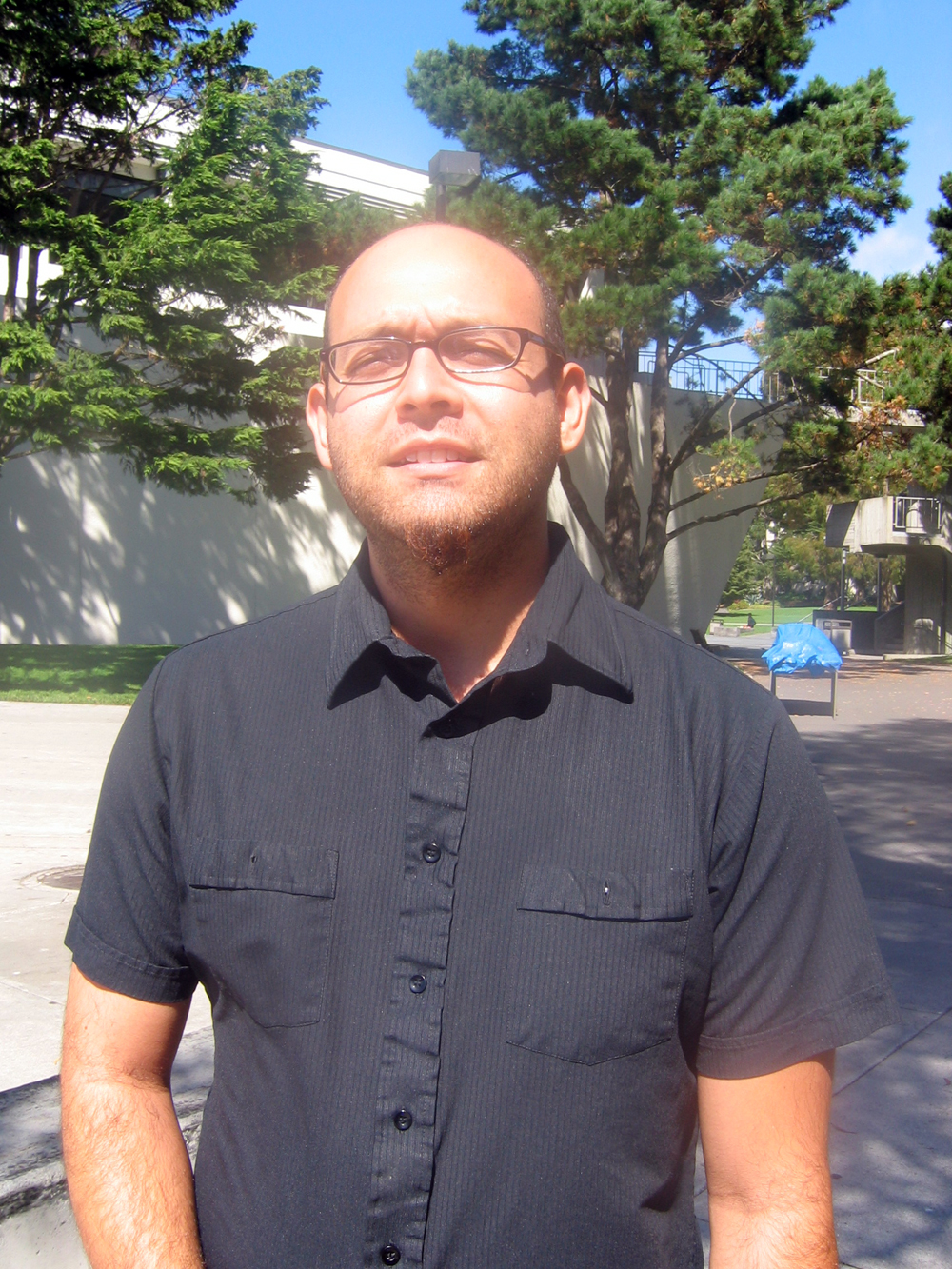 I was so lucky growing up, to have been exposed to a wide range of music that was not on mainstream radio or MTV. Jazz and creative music is not museum musics, but they do require you to research for yourself. Ever since jazz has moved away from being a dance music for entertainment to following the European Classical music model, jazz audiences have been expected to listen intently. The state of jazz today necessitates that you bring people to this creative music and show them what makes it special, so they want to experience more of it. I saw my father do that with his non-musical friends. I'd seen my band director do it with his students. I felt called to do that as well for young people and music.
While at San Francisco State, I was able to study with amazing music educators. Dave Rosenthal (SF Ballet Percussionist), Akira Tana and Andrew Speight were the mentors I found myself spending the most time learning from. I refined my drumming and reading skills with these gentlemen. I was lucky to find student musicians at SF State to play jazz music with in ensembles while studying the various instrumental foundation classes, keyboard classes, voice classes, theory classes and orchestration classes for my degree in music education. 
My study at this time was amazingly refocused. I was practicing the better part of the day on many facets of music.  I was connecting with teachers that had years of experience playing music around the world with some of the finest musicians in the world across several generations. I definitely felt a push from within to refine my own playing.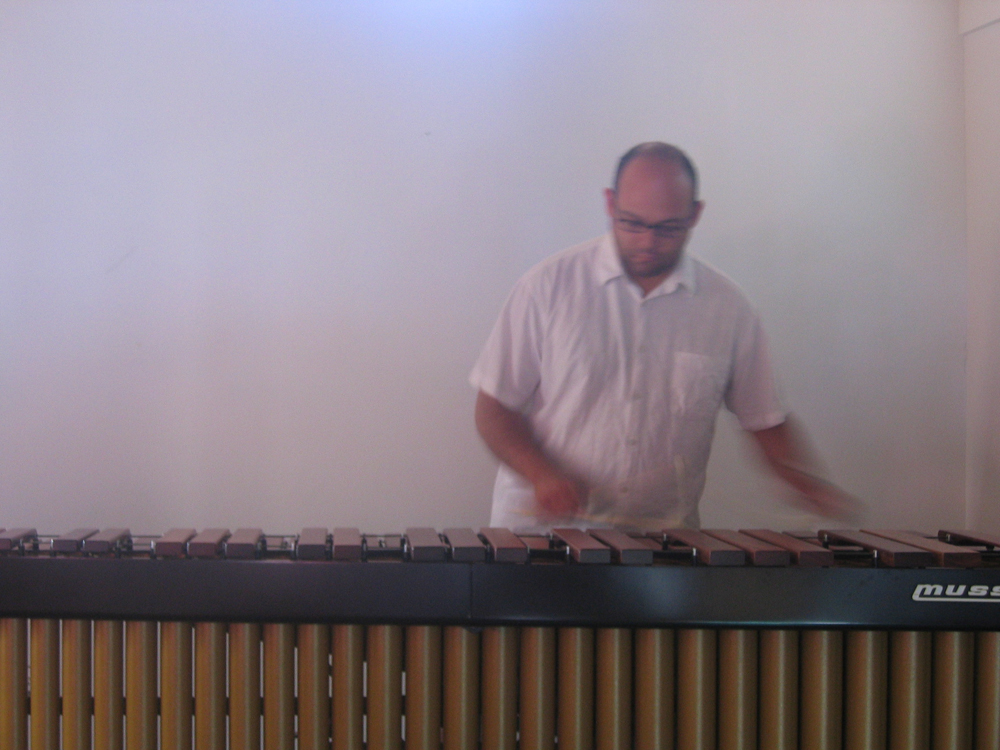 During this time (2002-2006) I was playing gigs and recording music with Dayna Stephens, Susan Getz, David Ewell, David Michel-Ruddy and Erik Jekabson. Prior to graduating, I had to give a senior recital to attain my degree as a music education major. I'm probably one of a few music education graduates from San Francisco State to give a senior recital like the one I gave. My senior recital consisted of me playing 20 minutes of unaccompanied classical percussion pieces on marimba and tympani and a 40 minute suite of jazz music that I arranged for me, Dayna Stephens, David-Michel, David Ewell and Susan Getz. This suite focused on standards with the word moon in the title or in the lyrics of the songs (i.e It's Only A Paper Moon, Fly Me To The Moon, etc).  https://www.youtube.com/watch?v=1Cd59eOiqlE
As I was nearing the completion of my degree I met my wife Monica Nguyen at San Francisco State. We first meet in the orchestra at SF State. She was the associate principal cellist in the orchestra (working on a Masters in Cello Performance) and I was the tympanist. She invited me to a party in the Lake Merced area of San Francisco. We immediately developed a relationship that has been the best thing that has happened to me in my life. We had our first child, Anastasia, in February 2005, while I was beginning the credential program at San Francisco State and teaching private drum lessons in San Jose.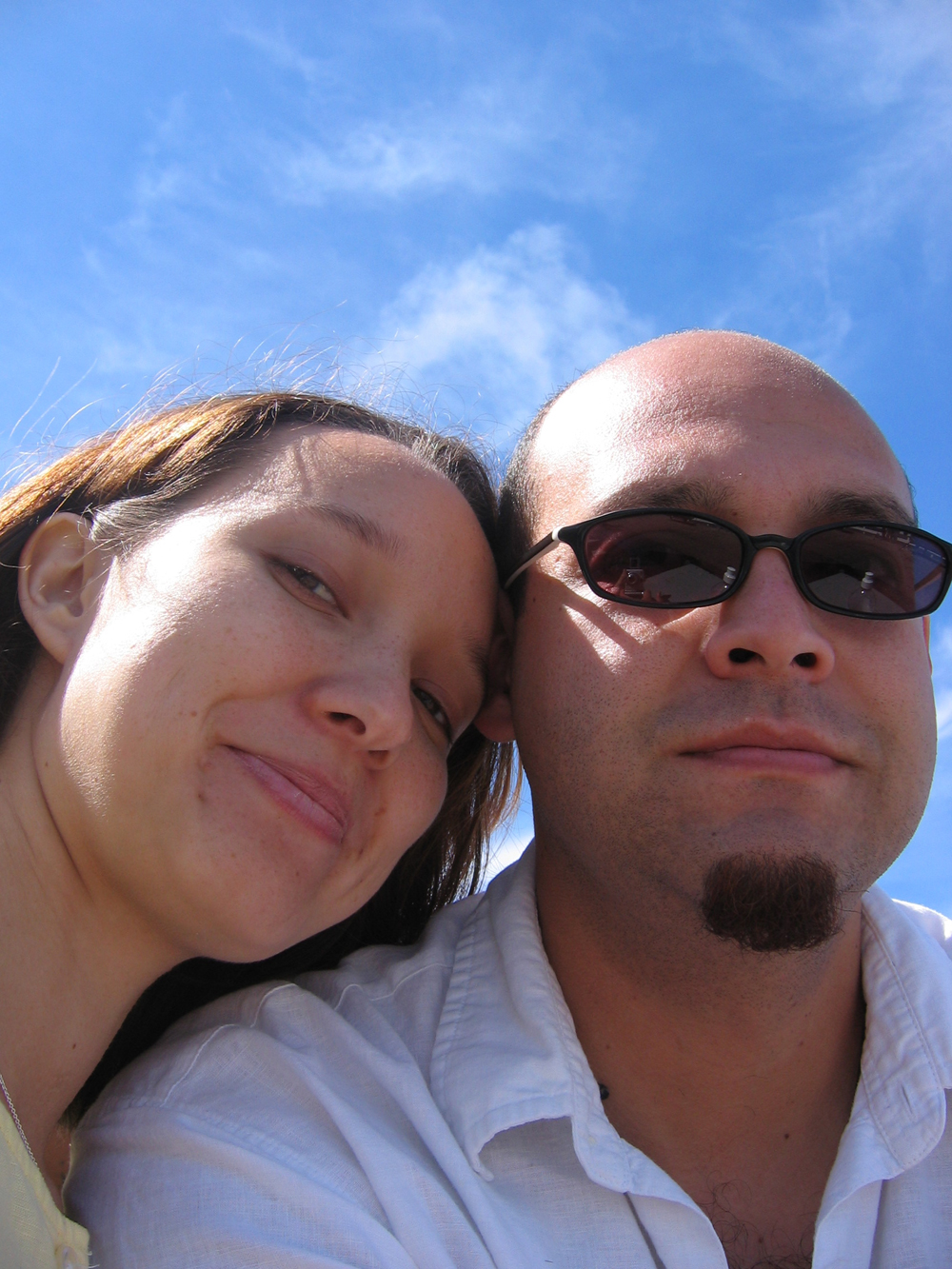 My friend and colleague Sameer Gupta asked me to take over his private lesson drum and percussion studio at SJG School of Music. SJG has been a blessing for me and Monica, as we both teach there. She teaches aspiring orchestral cellists and I get students who start drums and percussion from scratch all the way up through preparing for music as a major.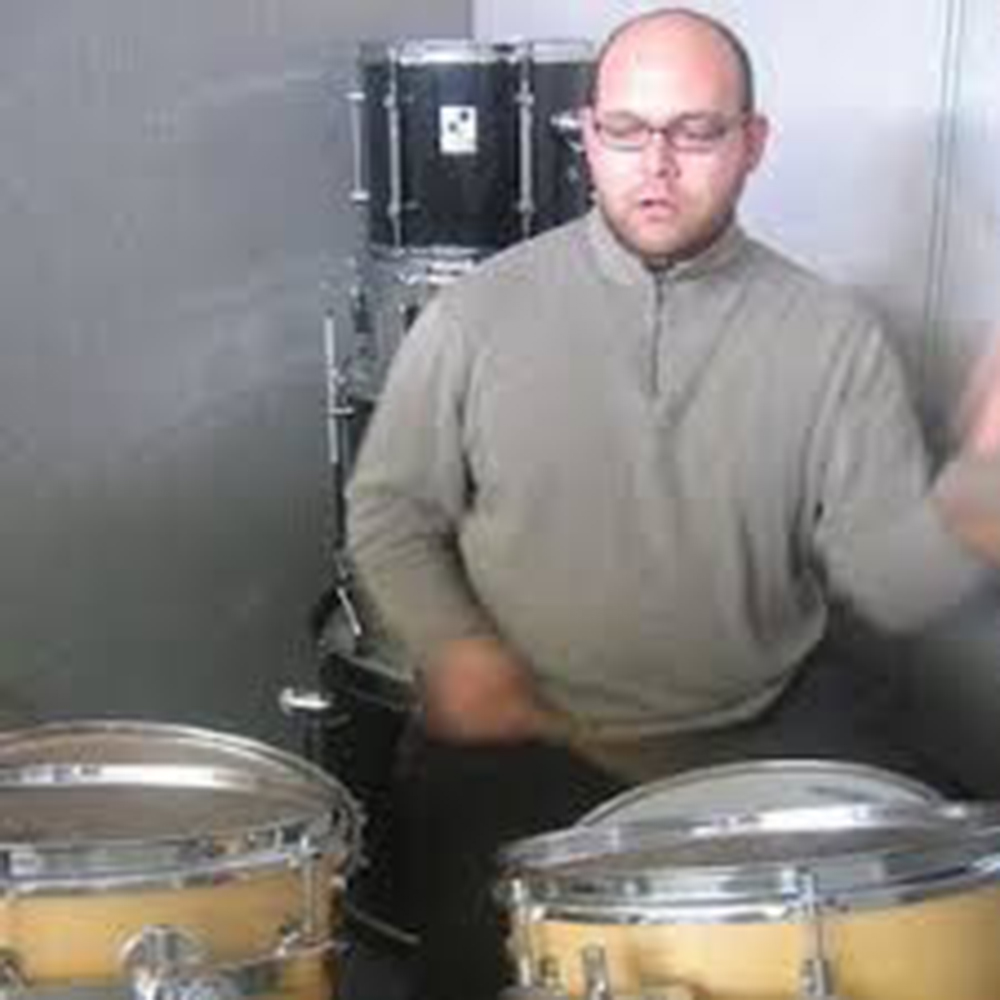 Our second child Ignacio was born in December of 2006. My typical day at that time was to drive from San Jose to Palo Alto, spend 4-5 hours with my master teachers David Brigham and Vivian Boudreaux and their 300+ band student program at Jordan Middle School. Then drive to San Francisco State for night classes from 6-10 pm three times a week and conduct private percussion lessons in San Jose 4 times week. I think I slept in San Jose mostly, but it's hard to remember that part—big blur!
My first full-time public school music education job began in August of 2007 at South San Francisco High School. Luckily my family moved closer to South City so my daily commute wasn't nearly as tiring and stressful (at least on certain days of the week). I don't know how truck drivers and airplane pilots do it. Driving is so stressful. One wrong move and life can change drastically.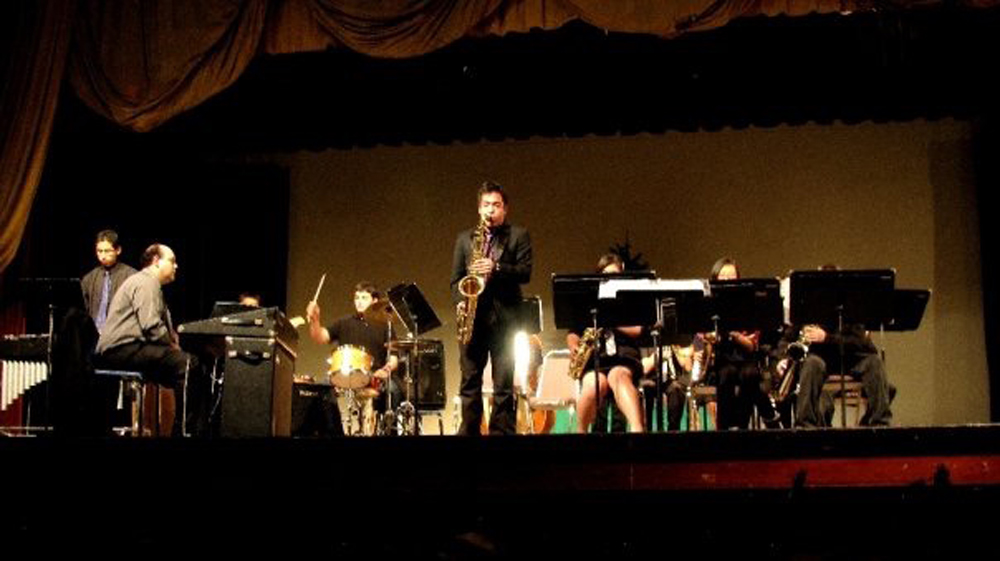 At South City I learned quite a bit about motivating music students to make the best possible music they could. I was lucky to have had this experience right away. I realized how much work it takes to run an active program that travels and competes in local and regional festivals.
Music directors have to be fully invested in this competitive  model of music education to succeed. While teaching at South City I did embrace this type of program, but I missed out on much of my family's early life.  I was 31 at the time and had two toddlers at home and a full-time band director job. I was living in an area where I could still play music with great players on occasion. However, I was usually too tired to make it to the sessions or take gigs like I had before acquiring this job. So I did so rarely.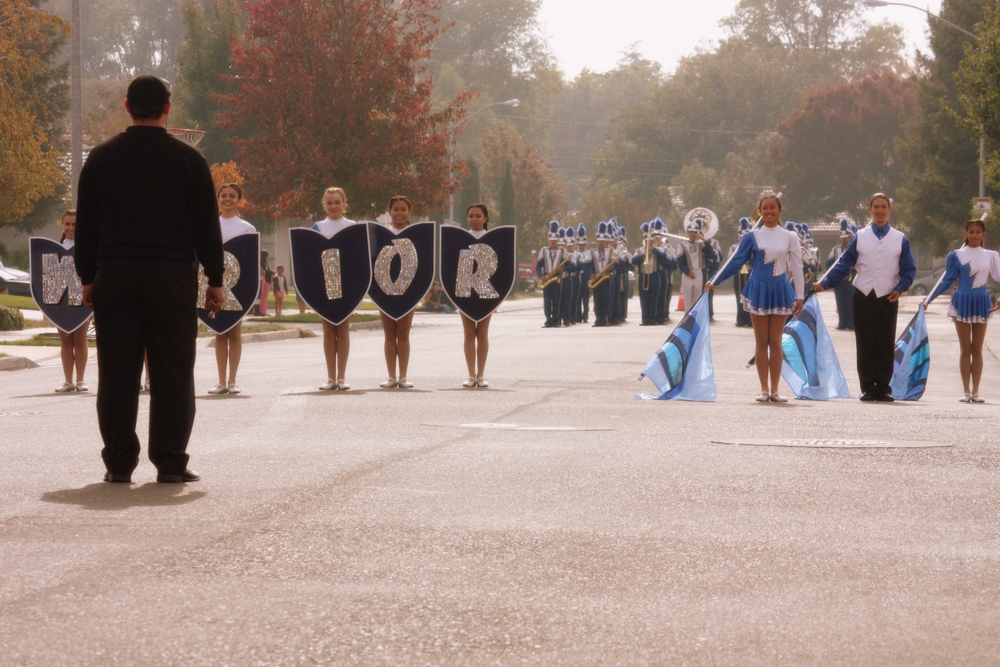 My young family life with toddlers was a blur. Having Monica, as a wife and a world class musician with me, has helped me grow musically and personally. She gave me strength and endurance to take a gig with great players from time to time. I am lucky to have someone like her. She understands the importance of musicians communicating through music. The music I was was making at this stage of my life, was with Justin Hellman, Lavay Smith and Susan Getz in 2007-2009.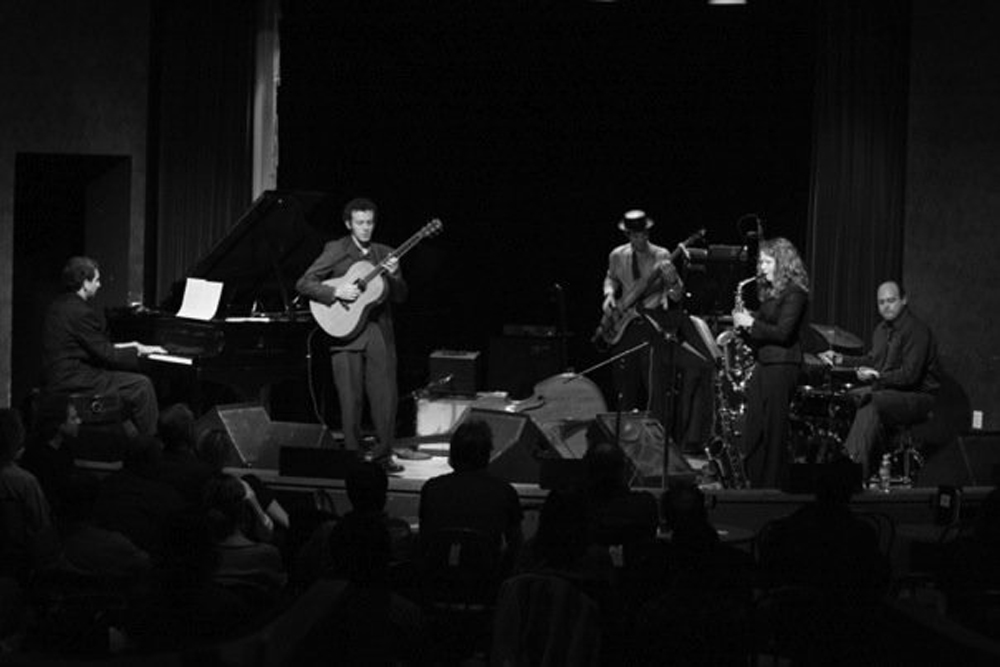 In August of 2009, our family moved back to San Jose (Campbell) to make our commute more manageable. Monica's family resides in San Jose. Of course our private lesson studio at SJG is in San Jose. My kids and Monica were isolated in the peninsula without family and the support system that is necessary when a parent like me is pulling long hours as a singular music director at an active music program, plus driving to Campbell for our private students.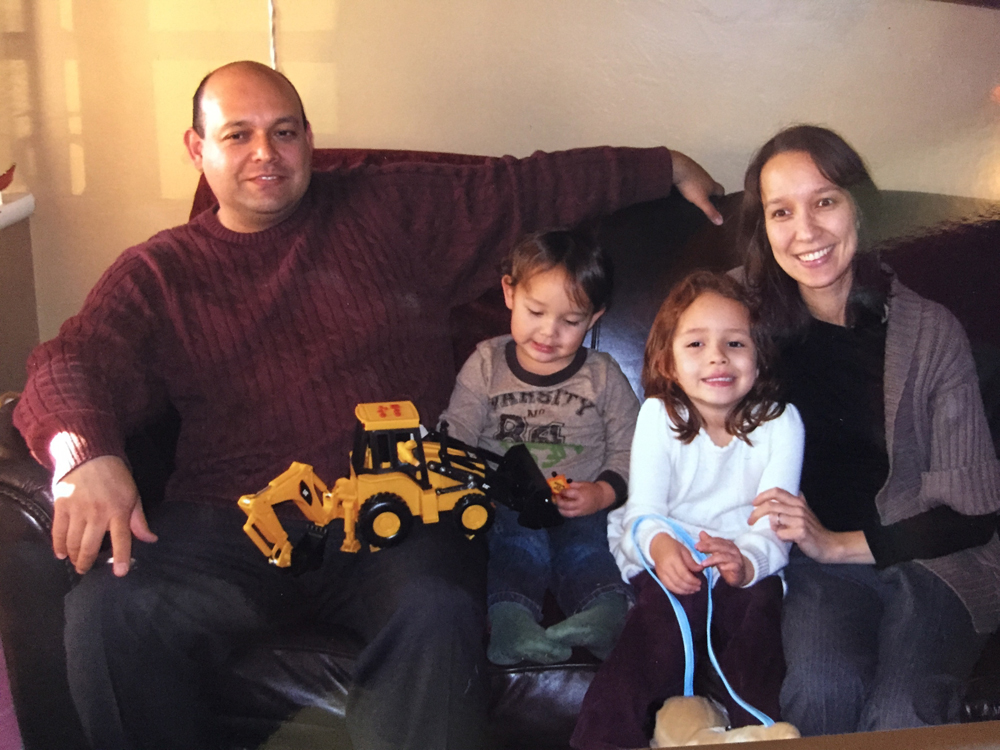 Moving to Campbell California has been one of the best things that we could have done for our family at that time. I get to see Monica and my children much more often. We currently live one mile away from our private lesson studio. This has allowed us much more freedom when taking on new students or accommodating the average highly over booked teenager and family of the Silicon Valley.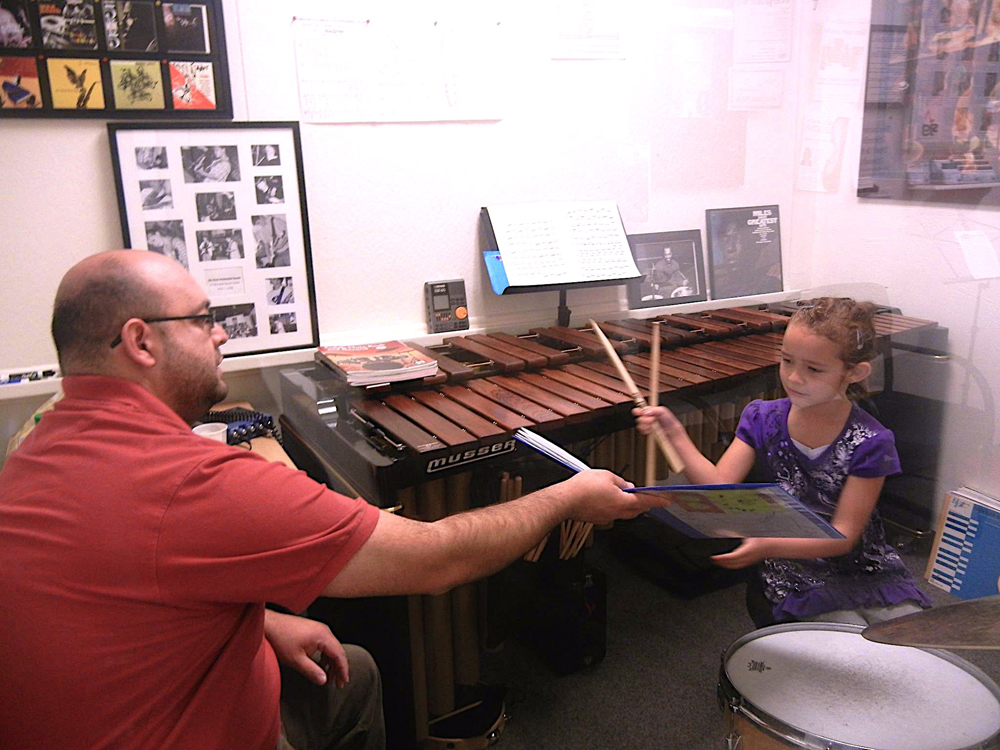 In the fall 2009, I met two music directors who have make a huge impact on my professional teaching life, Dana Mitchell and Dan Naylor. I worked as an assistant band director at Westmont High School and St. Francis High in 2009. Each program has different music classes, performing ensembles and each director has different professional strengths. What I was most impressed with each of these veteran directors was the degree to which they empowered their music students. 
Their students level of responsibility within each schools' music program was awesome. This has become my goal at my current teaching assignments. Over time I have learned how to correctly assess my players strengths and prior knowledge. This has helped me in supporting my students to produce music that makes the band experience more enjoyable and educational.
No one wants to sound bad or be bored. My biggest challenge year to year, because I don't get to keep my students forever, is assembling a group that continues to move forward with the expectation of growing. Part of being a solid team player is accepting new challenges, rising to the challenge presented and working as a team, sometimes following, sometimes leading and above all, being a part of something that is greater than yourself.
In August of 2010 I began teaching at a great charter school in San Jose, called University Preparatory Academy. I teach beginning band, intermediate band and advanced band there. It is a small school serving a highly diverse school population of 600 students. I love serving a collective of students from the greater Santa Clara county area.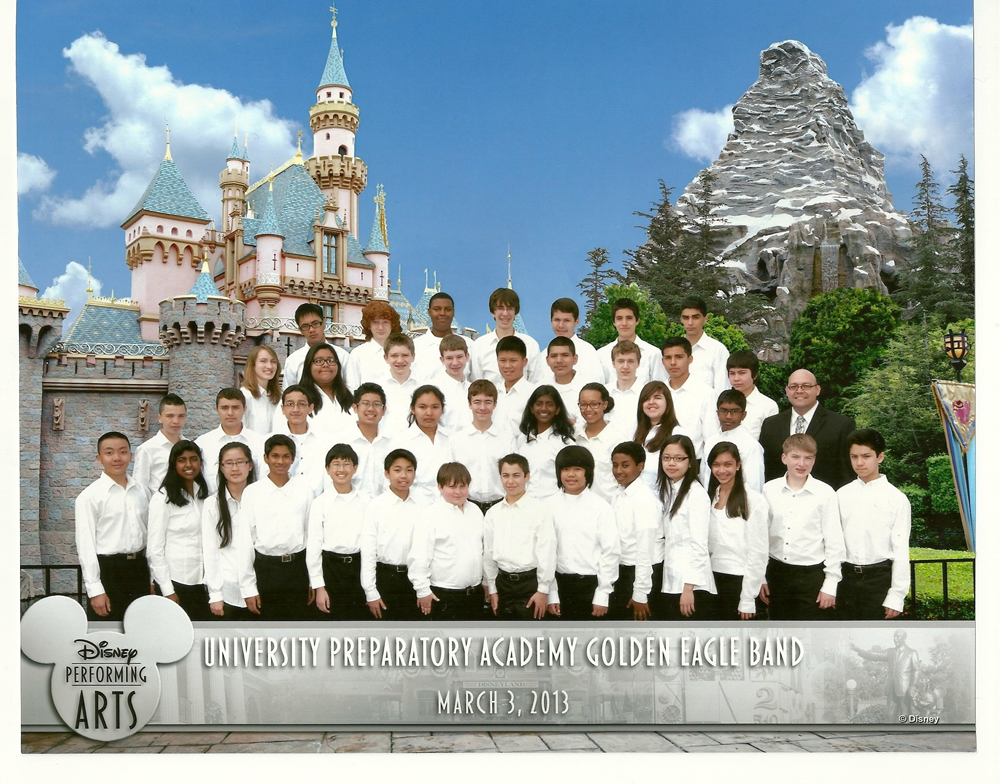 I am lucky to bring music into the lives of highly supportive families who value and appreciate music instruction in their children's lives. I am also thrilled that my own children are part this culture here in Silicon Valley. At times I feel like an ancient soul in the middle of so much technology and youthful spirit, but I feel called to be here. I have made attempts to reach the youth with traditional band, jazz band and rock band. The youth just love jazz and it is a challenge for me to not fully let jazz become the primary focus of my programs, but I know the students love when we mix it up, and I feel comfortable with this.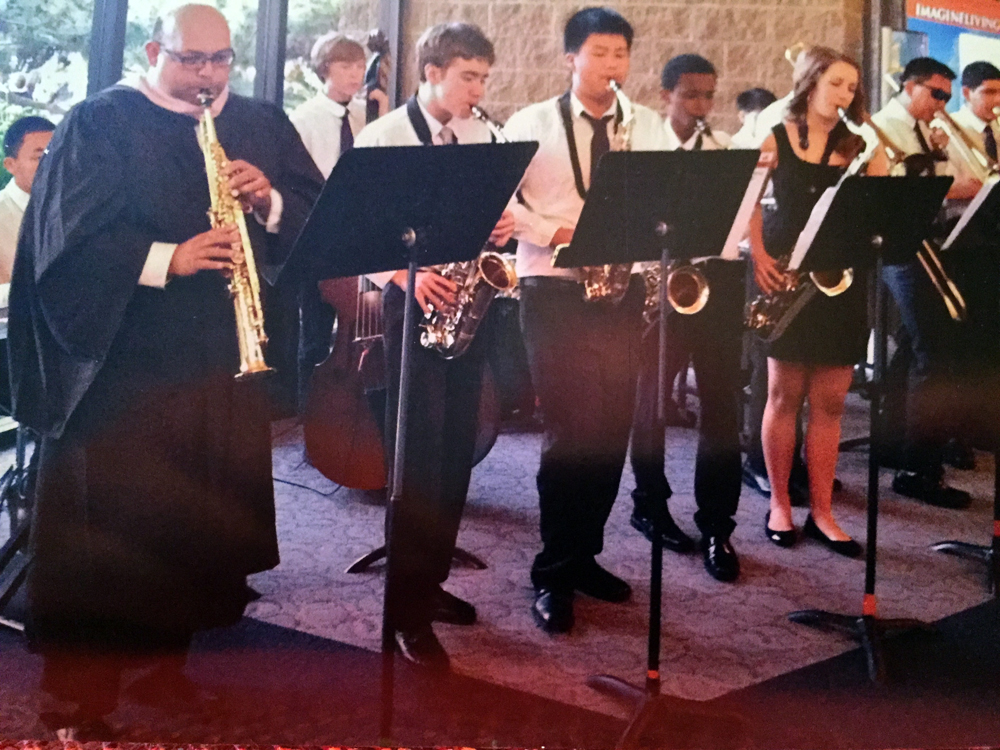 In 2012 I added an assistant band directing job at Redwood Middle School of Saratoga, California to my teaching schedule. I have two amazing team teaching collogues there in Jon Jow and Travis Gould. Redwood Middle school has been a wonderful way to spend more time with today's youths. The community of Saratoga has a rich tradition of music for their youth and it is an honor to be a part of that tradition. I have continued my private drum and percussion lessons at SJG School of Music and have expanded my studio to include side by side lessons with me drumming along side my students. I am so blessed to have discovered great schools to teach at in the greater San Jose, California area. 
I see many students of music each week. The music they study keeps me in shape and on my toes. Working with the youth is a great way to spend my day, sharing the thing that has been with me from day one: music. My goal of becoming a drummer that has assessed all musical and drumming styles, aiming to synthesize these styles into my own musical voice continues.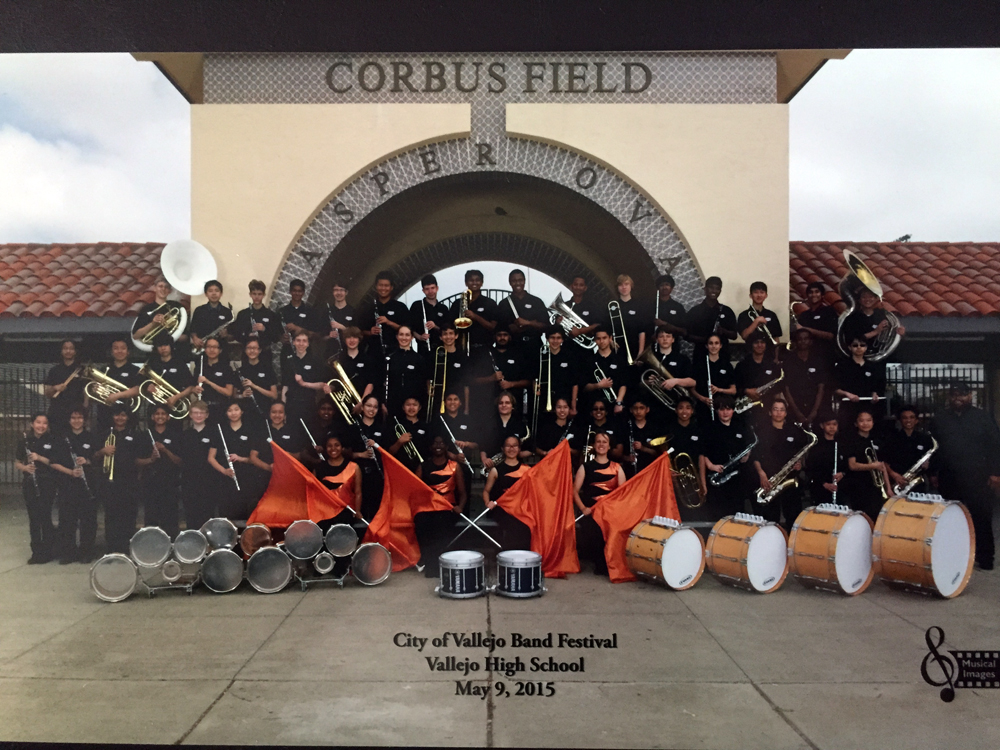 In 2013, I began making a greater attempt to play gigs and be on the music scene. Some of the musicians I have been working with over the past two years are Ben Torres (Pacific Mambo Orchestra), Cyril Guirard, Brian Ho, John Shifflet, Chris Shahin and The Cafe Stritch Jam Session.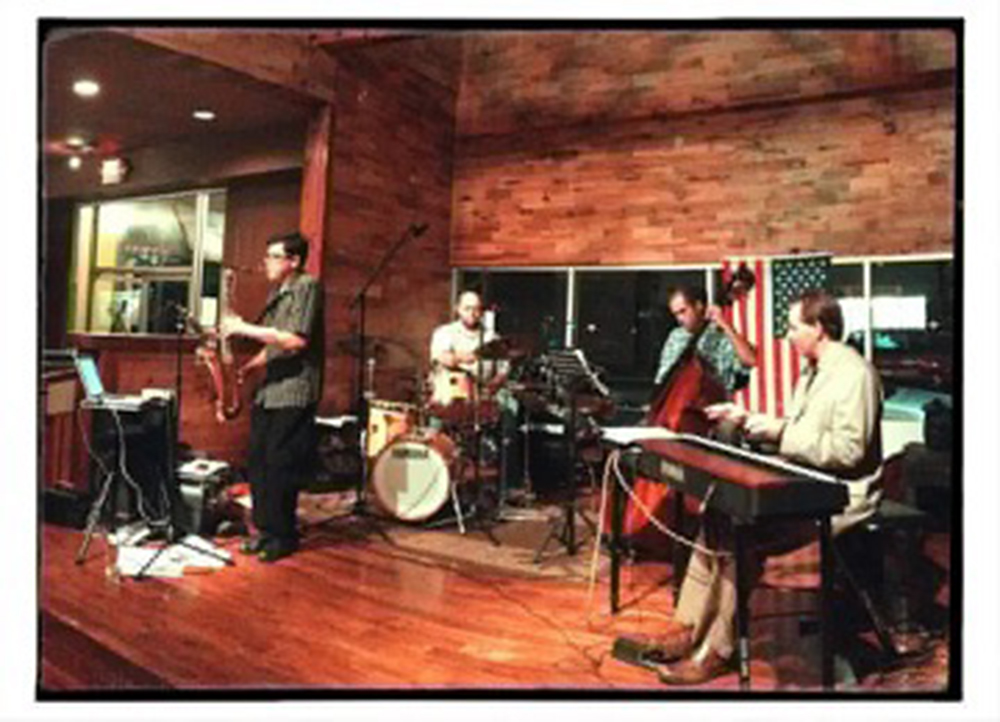 I am aiming to play more gigs that are of the highest caliber of musicianship for audiences that know and respect jazz and improvisational music. I am interested in traveling in the summer especially for national and international music festivals.
Having refined my musicianship and organizational skills while band leading in public schools these past 9 years, I feel compelled to take on band leading into the professional world. I have reestablished musical associations with exceptionally talented colleagues and have made newer associations with colleagues of the highest caliber.
My first solo recorded project, titled "Pomponio",  features the amazingly wonderful Warren Wolf on marimba and vibraphone, the remarkable Joel Behrman on trumpet, the sincerely feisty Howard Wiley on soprano, alto and tenor saxophones, the formidable Matthew Clark on piano, wise man John Shifflet on double bass, the groovin''' John Santos on percussion and myself on drum set and a plethora of cymbals.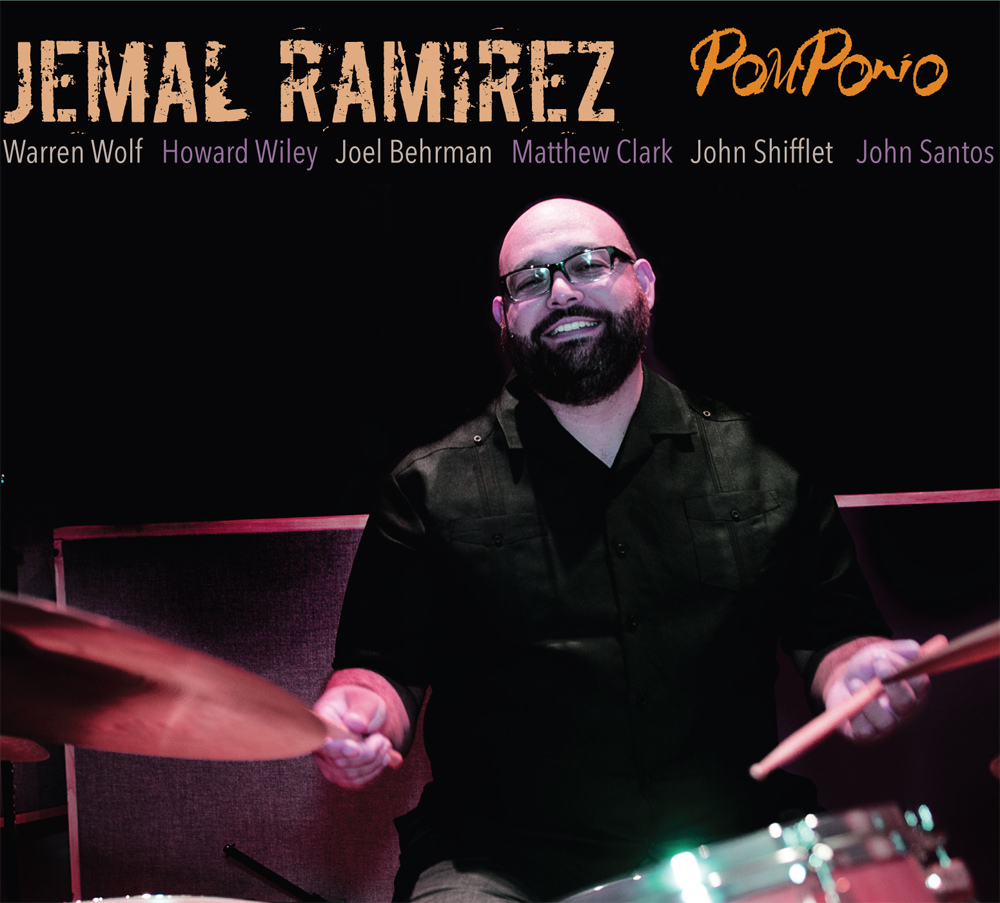 Pomponio spent several weeks on the Jazz Week top 50 chart--peaking at #38. We received some great album reviews and quotes from amazing writers of jazz music and the percussion world. The success of our first album, "Pomponio",  propelled the Jemal Ramirez group to perform at several Bay Area venues, such as, Cafe Stritch in San Jose, Cafe Pink House in Saratoga, Piedmont Pianos in Oakland and North Coast Brewery in Fort Bragg. We even played a live show on the Berkeley radio station "KPFA" at the beginning of 2017.
In the early months of  2018, the second album for the Jemal Ramirez Group with Warren Wolf, titled "African Skies", was welcomed Nationally by jazz radio folks to the tune of peaking on the Jazz Week Chart at #9 and continues to ride the Top 50 Jazz Week chart for 10 weeks and counting. African Skies features the same core group as Pomponio. Warren Wolf, Howard Wiley, Matthew Clark, John Shifflett and Jemal Ramirez, with special guest Mike Olmos, explore original music composed by Jemal Ramirez. The tunes are quite diverse in melodic content and rhythmic groove. Masterful team improvisation is the musical factor that makes this project worthy of special attention.
The Jemal Ramirez group starts the summer of 2018 with a nice trio concert with master pianist, Joe Gillman. The summer continues to ride high as the third installment of our recorded music reaches a projected release date of August 11th at Piedmont Pianos for the forthcoming album "I Have A Dream". In addition, the Jemal Ramirez Group will be playing and recording in the Bay Area the month of August 2018 with our core group and also just the trio with Matthew Clark and Giulio Cetto.
Special concerts on August 12th at the San Jose Jazz Summer Fest are strongly recommended. Warren Wolf and the core group of the Jemal Ramirez Group will be at the San Jose Summer Jazz Fest-at the Cafe Stritch Stage. Our core group will be recording at Fantasy Studios on August 13th--where we will be capturing more original music. Finally, we will be in Downtown Sonoma, for a Summer Plaza Concert, hosted by The Sonoma Jazz Festival folks on August 14th.
Things are looking up for the Jemal Ramirez Group--we look forward to seeing you at one of our upcoming shows. We'll have several copies of "African Skies" for sale on 180 gram vinyl--sold in great packages with "Joyful Beat Records" t-shirts and copies of "Pomponio" on CD.